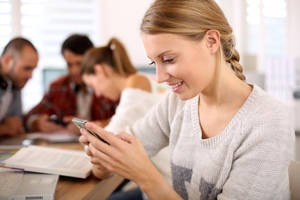 Much has changed since I've last been in college, but the need to stay in touch never will. That's why Sprint and Best Buy's new Unlimited, My Way student cell phone promotion is so great: Through the end of the year, any student (or family of one) that purchases a new full-retail cellphone from Best Buy will get 12 months of Sprint cell service with it absolutely free.
The plan is surprisingly good for something that's "free": It comes with unlimited calling, unlimited text messaging and no contract. There are a few catches, naturally: You only get 1GB of data (upgradable to unlimited for $10/month), there's a $36 activation fee and you need to pay full price for the phone. But hey, there are a number of great low-priced off-contract smartphone out there (like the Nexus 5). And remember, a year worth of cell service – even discounted Sprint service – is worth close to $1,000.
Middle school, high school and college students all quality for the discount. To prove someone is student, you'll need a valid report card from the current year, a student ID, a tuition confirmation/receipt or the required documents to show your child is homeschooled. You don't need to bring this information with you to the store – you upload to sprint.com/studentverify within 14 days of signing up. You can also fax your documents, provided you blow enough caked-on dust off a machine that dates back to your college days.
For more on Sprint and Best Buy's eye-popping offer, check out the details on Best Buy.
[Teenager at school using smartphone via Shutterstock]