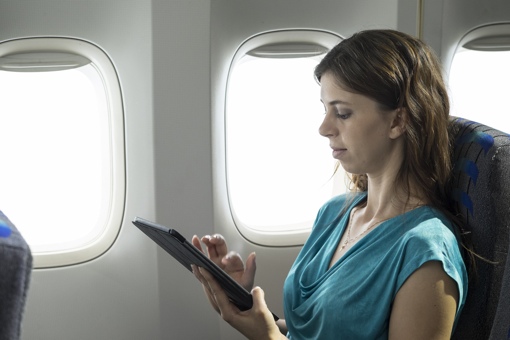 If you've flown recently, you likely know first hand: In-flight Wi-Fi is expensive. The technology is getting faster and better, yes, but more relevantly, it's getting more popular. And as more people clamor to use the relatively low-speed connections, the higher prices companies like GoGo charge.
"We're starting to have millions of users," explains Gogo CEO Michael Small, "so it's getting more and more congested, and we have raised prices, which you typically do when you have more demand than you have supply. There's nothing to apologize for. We have trouble finding a business in America that does anything differently."
Yesterday, The New York Times ran a story detailing just how expensive Gogo's in-flight Wi-Fi offering can be. For a 5- to 6-hour flight between New York and Los Angeles, the company charges up to $40. According to The Times, four years ago purchasing Wi-Fi from Gogo for the same flight would have cost you just $13. That's a pretty significant jump.
Fortunately, there are a couple of things you can do while traveling to take the sting out of in-flight Wi-Fi. According to Gogo, both Monday and Thursday are peak days. Try to schedule your flight for a Saturday – you'll likely get a good price on your plane tickets and the lowest possible price on your in-flight Wi-Fi. You'll get a far better price if you pre-purchase your in-flight Internet via gogoair.com while on the ground, too. Prices can more than double the moment your plane takes flight. You can also get lower prices if you purchase a smartphone-only plan, or purchase a multi-flight pass (good for regular business travelers). And United Airlines offers its passengers access to a free in-flight video streaming service, so you might not need to pay for full Internet access.
Many people purchase in-flight Wi-Fi out of boredom. If this sounds like your M.O., you can save some cash by prepping your digital devices before your next trip. Take a moment to download a couple new games on your smartphone and a couple new videos on your iPad or laptop. Be sure to pack a portable battery charger in your carry-on bags, too, so you can keep your favorite device topped off.
And, if you're planning a trip, keep in mind that some airlines have better Wi-Fi prices than others. For instance, JetBlue offers free WiFi for web browsing and watching streaming video, as well as higher-speed access for playing online games and transferring large files. And Southwest offers a flat rate of $8 for Wi-Fi and provides 18 channels of free live TV and a selection of free TV episodes.
For more about traveling with technology, check out these 5 must-have gadgets for your next vacation. And if you're going abroad, be sure to check out our essential tech tips for international travel.
[Woman on plane via Shutterstock]