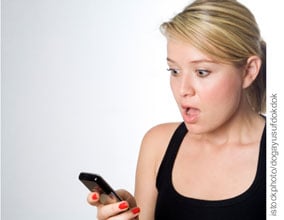 Have you been a little bit down on yourself lately? Are you not as satisfied with life as you think you could be? If so, put down that smartphone: A new study out of the University of Michigan Psychology Department suggests that social network Facebook may be to blame.
In the study, researchers text messaged subjects five times a day for two weeks, asking them how they felt at that moment and how satisfied they were with their lives. The volunteers were also asked how much they interact with other people, both in real life and via Facebook. The scientists found that the more people use Facebook, the worse they felt and the more their satisfaction with life declined.
"On the surface, Facebook provides an invaluable resource for fulfilling the basic human need for social connection," writes Dr. Ethan Kross, et al. in the study's abstract. "Rather than enhancing well-being, however, these findings suggest that Facebook may undermine it."
Interestingly enough, the psychologists found that interaction with people in real life does not have the same negative effect that interacting on Facebook does. This could be because we typically use social networking sites when we're alone, lonely or bored. After all, how are we supposed to feel when we learn our friends are having a great time at a party while we stand alone in a supermarket checkout line with the frozen French bread pizza we're making for dinner?
This is far from the first study to suggest that Facebook might be hurting our collective mental wellbeing. Last week, research out of England suggested that posting photos of yourself can hurt intimacy. In July, a MyLife study revealed that 56% of Americans experience anxiety over missing out on important updates or events shared on the social network. And just last year, psychology researchers in Norway suggested that Facebook addiction is a real condition, potentially leading to "a negative impact on your job or studies."