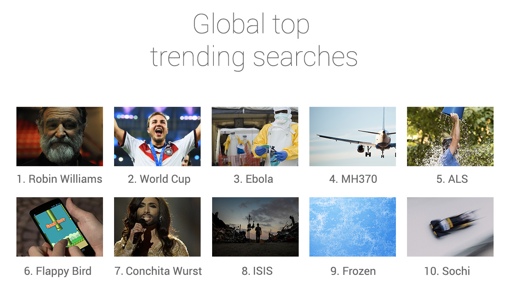 Google, arguably the world's foremost authority in Internet searches, has finally unveiled its Year in Search 2014 coverage. Many events captured our collective attention this year, from the threat of Ebola to the mysterious disappearance of Malaysian Airlines flight MH370. But according to Google search data, the most searched event of 2014 was the sudden loss of actor Robin Williams.
According to Google, Williams' death had a powerful ripple effect in the search world. People not only searched for information about the comedian's life, his family and his body of work, but also shared numerous animated GIFs and other thoughts in memoriam. His death even spiked interest in mental health topics and tests for depression.
The second most searched story of 2014 according to Google was the World Cup soccer tournament held in Brazil. (The tournament was the number one searched event on Bing.) Filling out the rest of Google's top 10 searches of 2014 are:
Robin Williams
World Cup Soccer Tournament
Ebola
Disappearance of Flight MH370
ALS/Ice Bucket Challenge
Flappy Bird
Eurovision 2014 winner Conchita Wurst
ISIS
Sochi Olympics
Want to peruse Google's Year in Search coverage on your own? Simply type "google 2014" into a Google search box and you'll be able to take a look at the top lists from around the world. Those who still use the Google+ social network can also find Year in Search content by using the hashtag #YearInSearch.
[Image: Google]