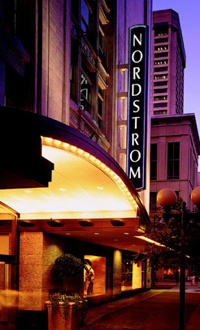 If you're a regular reader of Techlicious, then you know private companies are spending big bucks to track your location and movements. Verizon and AT&T are using your phone's GPS to sell advertisers data, while other companies are profiting off knowing the location of your car. But did you know that retailers are getting even more invasive, tracking your every movement inside their stores down to a couple feet?
It's true: Just this past Spring, upscale department store Nordstrom tested a new marketing technique where customers' movements past various sale displays would be tracked using their smartphone's WiFi signal. The Philz Coffee chain uses a similar technology to know what percentage of people with smartphones enter their store, as opposed to just passing by it on the street.
Nordstrom alerted customers to the new plan via posted signs, and predictably, shoppers did not respond well to it. "We did hear some complaints," admits spokeswoman Tara Darrow to the New York Times. The store stopped tracking people indoors in May.
The technology used by Nordstrom and stores like it is surprisingly advanced. Not only can you be tracked down to a 10-foot radius, but data can be used to predict where you'll go next. And because your phone has a unique fingerprint to it, you're not just an unknown data point. A store knows if this is your second visit to the shoe department, and it further knows that you're likely to walk towards the escalators next. So why not have a sales associate waiting right there for you, to let you know that you're entitled to 20% off that pair of designer jeans you were staring at for 19.7 seconds?
Worried about being tracked? The good news is it's easy to make yourself invisible to this type of marketing, if it's really bothersome to you. Simply go into your phone's settings, and make sure its WiFi functionality is turned off when you're away from home. Not only will you be invisible to these marketers, but you'll also save a bit of battery life in the process!