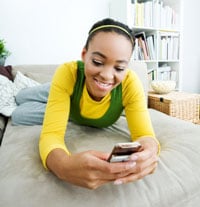 Teenagers are no strangers to making mistakes. I made plenty during my teens, and you probably did too. But back when I was going through puberty, there was no social media. No multi-billion dollar company was storing a complete dossier on my life, and my most embarrassing moments only live on in my memory. A lack of a social media footprint can definitely be an advantage.
Starting in 2015, California teenagers will be able to enjoy that same advantage if they so choose. Just this week, Gov. Jerry Brown signed a new "eraser" bill into law that would require websites to scrub a minor's online activity from public view upon their request.
There are a few catches to the new law. Teens concerned about their privacy will only be able to request deletion of content they provided or uploaded themselves. They must make their request before they turn 18. And the offending posts or pictures need not actually be removed from company servers, just made unavailable for public viewing.
Teenage privacy is a growing concern amongst lawmakers because it seems to be increasingly under attack. In August, a proposed change to Facebook's Data Use Policy would allow the site to use underaged children's self photos, posts and likes in advertisements as a condition of their using the site.
"If you are under the age of eighteen (18) … you represent that at least one of your parents or legal guardians has also agreed to the terms of this section (and the use of your name, profile, picture, content, and information) on your behalf," reads the site's proposed new privacy rules.
That exploitative change has been put on hold after over 20 advocacy groups, including the Electronic Privacy Information Center and Center for Digital Democracy, petitioned the FTC to review its legality.
"Such 'deemed consent' eviscerates any meaningful limits over the commercial exploitation of the images and names of young Facebook users," these groups argued in a letter to the FTC and other federal officials. "The amended language involving teens—far from getting affirmative express consent from a responsible adult—attempts to 'deem' that teenagers 'represent' that a parent, who has been given no notice, have consented to give up teens' private information. This is contrary to the Order and FTC's recognition that teens are a sensitive group, owed extra privacy protections."
It's still too early to tell just how beneficial California's new teen privacy law will be. Still, it's a great sign to see the nation's largest state take action on this growing issue. Given how easily a single picture can ruin a career, minors deserve the option for a digital fresh start at age 18 if they so choose.