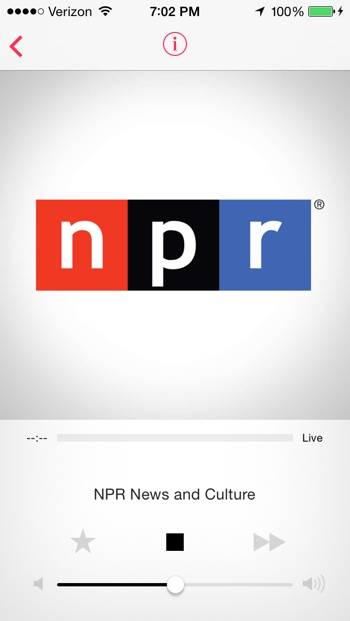 Good news for anyone who's as big a fan of public radio as I am: Starting today, in addition to being able to catch NPR on the radio and on the web, you can stream the public radio network using Apple iTunes Radio on your iPhone, iPad or iPod touch.
According to NPR, the new iTunes Radio station will be streaming 24 hours a day with hourly newscasts and content from popular shows like Morning Edition and All Things Considered. Local NPR stations are expected to join iTunes Radio soon as well, so you'll be able to keep up with your local favorites even when far from home.
"What you hear today is just the start of what's to come," says NPR Vice President of Digital Media Zach Brand.
To listen to NPR's new iTunes Radio station, simply tap the "Music" app on your device. Then tap the Radio icon in the lower left-hand corner. Tap the plus icon to add a New Station, and then search for "NPR." You can also find the new station in the list of Featured Stations, or by clicking this link directly. Happy listening!