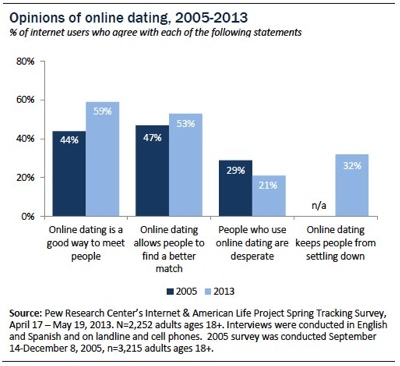 I like to consider myself a modern man. And, as a modern single man, I've dabbled in a little bit of online dating (despite OKCupid's concerns about my marketability). It used to be something to be embarrassed about – in the old days, only nerds and geeks used computers for dating. Now, online dating seems to cut across all walks of life and social groups.
Indeed, a new poll from the Pew Internet & American Life Project shows that online dating has undergone explosive growth just over the last few years. Approximately 11% of Internet users have used online dating sites, up dramatically from 3% in 2008. When you consider only single adults, the numbers rise even more dramatically: 38% of Americans who are currently looking for a partner have used an online dating site.
Not only are more people trying online dating, but online dating is also becoming increasingly acceptable to the average American. 59% of Internet users now say online dating is "a good way to meet people," while 53% say that online dating "allows people to find a better match because they can get to know a lot more people." Driving those statistics may be the fact that 29% of Americans now know someone in a long-term relationship or marriage that started with an online date, up from 15% in 2005.
For more on the poll, visit the Pew Interent & American Life Project's website. If you want to give online dating a try yourself, bone up on these online dating red flags. And if you're looking for something a little different from the OKCupids and ChristianMingles of the world, check out these alternatives to traditional dating sites.