There's no shortage of smart home devices on the market that plug directly into your home's outlets to measure their flow of juice. But so far, devices that capture a picture of your whole house's energy use have been elusive. Elusive, that is, until now. Meet Smappee, an awkwardly named but incredibly useful gadget that attaches to your home's fuse box to itemize the energy use of each and every appliance, light and device that plugs into a wall outlet.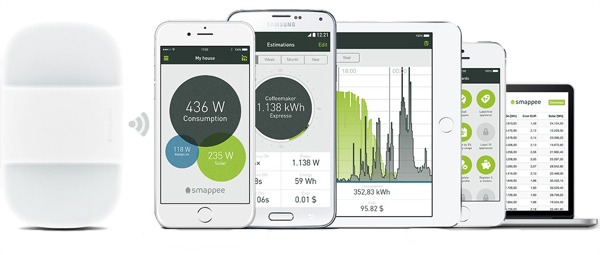 The $249 Smappee takes a lot of mystery out of your home electricity bill. It measures the unique electromagnetic signal of each appliance in your house drawing 40 watts of power or more. With a little bit of work (walking around your house turning devices on and on), you can easily create an in-app list of every item you own and the power it draws. You'll learn exactly how much you're spending in real time to power your video game consoles, TVs, electric stove, electric heater, coffeemaker and lights. This way, Smappee can steer you toward higher energy efficiency, stamping out energy vampires throughout your home. The average Smappee owner saves 12% on their electric bill, according to the company's qualitative assessment of 23 different studies.
"Once you start seeing what each item is doing, you become an energy manager," explains Smappee CEO Stefan Grosjean. "Without even realizing, you start thinking 'Why is the TV using that amount of energy?'"
Of course, Smappee has more features than simple energy monitoring. You can buy packs of optional Comfort Plugs (three for $40) that allow you to remotely control these appliances from your phone at a cost far lower than the competition. Smappee also interfaces with the IFTTT automation app, which can send you an alert if you exceed a certain level of energy usage or when your driveway motion sensor light turns on. It can even wake you up in the morning when it detects your coffee maker has started brewing. The possibilities are near limitless, given the power of the app. Support for Apple's Home Kit is in the works, too.
Interested in learning more about Smappee? You can take a look at the company's website by visiting smappee.com. You can also watch the short promotional video below to see the device in action.