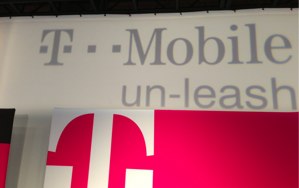 Yesterday, T-Mobile leaked their new no-contract monthly pricing plan and this morning at a press conference in New York they explained more details of what they have to offer. And what they talked about sounds great for those looking for a new phone.
No contract service plan
The service pricing plan, called Simple Choice, is very straightforward: $50 a month gets you unlimited texting and talk time as well as 500MB a month of 4G data usage. There is no 2-year contract. You will pay monthly and can cancel at any time without penalty. If you have good credit you can pay at the end of the month. If your credit isn't great, you can still get the same deal, but will pre-pay for the month. Going over you data limit won't result in an extra charge, just throttled access until the new billing cycle. The $60 option bumps your monthly data usage to 2GB.
The $70 option gives you unlimited data usage, but limits how much data you can use from tethering other devices to your phone for connection access. All plans allow you to tether your laptop, tablets, and other devices to your phone, but the unlimited option limits the tethered data to 500MBs. Also, "unlimited" data usage does have its limits. If you are using so much data that you are impacting the service for others in your area, you will be throttled, but that's an extreme case.
Additional lines can be added for $30 for the first line and $10 for each additional line. The additional lines come with 500MB of data per line. Additional data can be purchased for each line at $10 for 2GB per line or $20 for unlimited data per line. Though you should consider if tethering the connection from your main smartphone may be a better deal for you, especially in the case of getting internet access on a tablet on the go. After all, when do you have your tablet with you without having your phone with you at the same time? The consideration is how much data you use through the month. T-Mobile cited the average Samsung Galaxy S 3 user as consuming 3GB of data per month while households go through about 15GB in the same time period.
Phone options
While T-Mobile is touting no contracts, there is one if you purchase a phone from them with a small down-payment, just not the contract you are used to. When you buy a phone from another carrier at a subsidized rate, you pay them back for the difference over the two year contact that binds you to their service plan as well. T-Mobile offers a pay-over-time plan for its phones with a contract to pay them back over two years at $20/month, but that's all the contract binds you to. You are free to use their monthly service or you can pay off the phone and unlock it to use on a compatible cell phone network, like AT&T.
You can also buy the phone outright at full cost and then use T-Mobile's monthly service plan as you see fit. For example, a 16MB iPhone 5 at full price will cost you $649. Or you can buy it at $99 with a two year contract of $20/month which, in the end, will cost you $649. If you buy the $99 phone and decide you don't like T-Mobile's service, there is a buy back program where you can sell it back to the carrier for a reduced price and have that amount credited to what you owe them.
In addition to the iPhone 5 (available in store April 12 with preoders online now), T-Mobile will also be offering other LTE-enabled devices including the Samsung Galaxy S4 (May 1), Galaxy Note II, HTC One and Blackberry Z10. The iPhone 4 and 4S will also be available but in limited markets that have yet to be announced.
Service coverage
What's the use of an LTE-enabled phone without LTE coverage? T-Mobile is rolling out LTE coverage in seven regions including Baltimore, Houston, Kansas City, Las Vegas, Phoenix, San Jose and Washington D.C. And where T-Mobile doesn't have LTE, customers will use the HSPA+ network, which is faster than 3G. LTE in New York is due early this summer.
T-Mobile is making smartphones affordable with this new no contract service plan and flexible with the smartphone purchasing options as well as the buy-back program. The only real drawback is how quickly they can roll out LTE service to all the major cities.