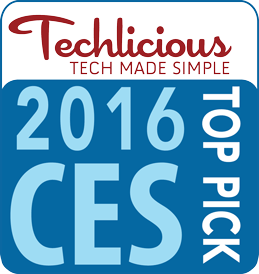 Every year, the Techlicious team heads out to Las Vegas for CES to look for the best new products and tech trends for the year. And, as always, this year's CES presented some big standouts, from a TV as thin as four stacked credit cards to a car seat that does all the hard installation work for you to a 6-inch phone that gets two full days of heavy use.
After walking many miles and eyeballing hundreds of products, these 11 products stood out for their unique features, clever solutions or just plain awesomeness. We crown them the Techlicious Top Picks of CES 2016 award.
4moms Self-Installing Car Seat
The National Highway Traffic Safety Administration says that three of every four car seats are installed improperly, and many parents don't even realize it. 4moms is helping take the worry out of car seat installation with the first robotic self-installing car seat. Pair your phone to the seat and use the 4moms app to get personalized safety instructions for your car model based on its Vehicle Identification Number (VIN, which is typically inside the car door). The app and the seat work together to tighten and level the seat, and the system constantly monitors the seat while in use to make sure everything stays in place and your child remains safe.
Price: $499.99
Available: June 2016
Website: 4moms.com
Samsung Family Hub Refrigerator
The kitchen has always been the place where family comes together, even when life is hectic. Samsung's new Family Hub refrigerator takes that concept into the 21st century with a large 21.5-inch touchscreen built right into the door. Pre-installed apps let you write messages and sync Google and Apple iCal calendars, so you'll always be on top of your kids' always-growing list of activities. There's even an app to let you build grocery lists and order them for deliver. At the grocery store and not sure if you need milk? Just check the app —the fridge takes a picture of its contents every time you open the door, so you can see what you're out of. The system will eventually work with Samsung's SmartThings platform. We think this fridge is destined to become the new digital heart of the family.
Price: $5,000 to $6,000
Available: May 2016
Website: samsung.com
[Image Credit: Samsung]
LG Flat OLED 4K HDR TV with webOS 3.0 Smart TV
The picture quality of televisions has increased dramatically over the past few years with 4K video, HDR and OLED screen technologies. LG just combined them all into a shockingly thin television (2.7mm, the thickness of four credit cards stacked) dubbed the 65G6. The 4K technology adds twice as many pixels as an HD 1080p TV. OLED gives the picture whiter whites, blacker blacks and rich colors. And HDR ups the contrast even more. All of the connectors and video processing is built into the base, which doubles as a sound bar, so the screen itself stays as thin as possible. On top of that, LG added webOS 3.0 to this beauty, which adds controls for smart home appliances and a ton of streaming video content. This is our pick for the best TV at CES.
Price: Not announced
Available: Not announced
Website: lg.com
Samsung Portable SSD T3
Last year, we featured Samsung's Portable SSD T1 on our Techlicious Picks of CES 2015 list. This year, Samsung took its already thin, light, high-capacity portable SSD to the next level with the T3. First, it comes with double the capacity — now there's a 2TB version, as well as the previous 250GB, 500GB and 1TB options. Samsung also made the drive rugged, increasing the impact protection for a drop height of 1.5 feet to 6 feet. And, Samsung added a USB-C port to the drive, so now you can back up from tablets and phones, as well as computers, that are adopting the new USB-C architecture.
Price: Not announced
Availability: February 2016
Website: Samsung.com
[Image credit: Samsung]
LG Gram 15
People were pretty excited last year about Apple's new gold MacBook, but LG's Gram 15-inch Core i7 Processor Ultra-Slim Laptop blows it away. The new Gram 15 is the lightest 15-inch laptop on the market and it's a beauty with plenty of brawn. While many laptops, like the MacBook, trade power for battery life with Intel Core M processors, the Gram 15-inch goes all in with its Intel Core i7 processor. Plus, the Gram 15 has a far larger screen than the 12-inch MacBook, but only weighs slightly more (2.16 pounds versus 2.03) than the highly revered MacBooks. LG didn't stint on the Gram 15's ports: It includes HDMI, microSD, USB 2.0 and two USB 3.0 ports. It's essentially a 15-inch MacBook Pro with half the weight and thickness. This ultra-portable, ultra-sexy laptop should be a winner for those who don't want to compromise between power, portability and functionality.
Price: Not announced
Available: Not announced
Website: lg.com
[Image credit: LG]
Huawei Mate 8
Chinese tech giant Huawei has quickly grown to become the third largest smartphone maker globally, behind Samsung and Apple. The 6-inch Mate 8 flagship phone that the company announced here at CES will, no doubt, help its competitiveness. The Mate 8 is incredibly thin and light (7.9mm thick and only 185grams) and gets a whopping two full days of battery life under normal use, which is pretty much unheard of in today's smartphone realm, especially in a 6-inch model. We tested the phone at CES and, after 18 hours of regular use, it still had 49% of its power left. But what's even more impressive is that Huawei didn't cut down on the specs to make the battery last. It uses an octa-core processor that is incredibly power-efficient and packs in a 4000mAh battery. The phone runs Android 6.0, although the Huawei Emotion UI skin is a step backwards, and something we hope they will consider revising before final release. We love the Mate 8 because, although it's not perfect, the Mate 8 offers a highly compelling overall package.
Price: Not announced
Available: Not announced
Website: gethuawei.com
[Image credit: Huawei]
BoomCloud 360's BoomStick
BoomCloud360 makes any pair of headphones sound better with its BoomStick dongle. Just plug your headphones into the BoomStick, then plug the BoomStick into anything with an audio jack to add depth and richness to the sound. The processor in the BoomStick runs proprietary algorithms to work auditory magic. The best thing, you'll notice the most difference with the cheapest pairs of headphones, so you can use them with everything from the free earbuds you got with your smartphone to your best pair of noise-canceling headphones to take your music to the next level.
Price: $99
Available: March 2016
Website: boomcloud360.com
[Image credit: BoomCloud 360]
Panasonic Lumix ZS100
Panasonic's Lumix ZS100 is the ultimate travel camera, taking technology developed for much larger, high-end cameras without sacrificing a long zoom lens. It has a huge, 20-megapixel, 1-inch sensor packed into its tiny body, which lets it gather more light for richer colors and more detail. The camera takes 4K video, which means it can also take 8MP photos at a rate of 30 per second in its 4K photo mode. Using its Post Focus mode, the camera takes 49 photos at different focal points, so you can touch the object you want in focus to refocus your shot after you've taken it, eliminating the dreaded missed shots because you focused on the wrong object. The Lumix ZS100 also has a 10x wide-angle optical zoom lens (25mm-250mm equivalent), which other cameras with one-inch sensors don't have. All in, this incredibly flexible, yet compact camera offers the best combination of features in its class.
Price: $699
Available: March 2016
Website: panasonic.com
[Image credit: Panasonic]
Project Nursery Baby Monitor
Online children's interior design resource Project Nursery teamed up with consumer electronics company VOXX International to make this baby monitor that's incredibly functional and beautiful. Not only does it come with a 5-inch HD LCD touchscreen parent monitor, but it also a 1.5-inch mini monitor with a wristband, lanyard and clip so you can run around the house while keeping an eye on your baby or toddler. Both the parent monitor and mini monitor have pan, tilt and zoom controls for the included camera. The interface is easy to use and lets you record video, monitor the room temperature and play lullabies to help your little one fall asleep.
Price: $299
Available: June 2016
Website: projectnursery.com

[Image credit: Project Nursery]
Lenovo ThinkPad X1 Tablet
Lenovo's newest addition to its tablet line, the ThinkPad X1, can transform itself to fulfill pretty much every business need. First, it's a Windows-based tablet that comes with a full-size keyboard sporting a red pointing stick for easy maneuvering (you can leave that mouse behind). And in this mode, it's a thin, sleek 2.4-pound laptop. The best part of the X1, however, is its flexibility. You can clip on modules to make the tablet a projector for business meetings or entertainment, add a 3-D camera, or clip on an additional battery for up to 15 hours of additional use. The ThinkPad X1 is a true transformer.
Price: $899
Available: February 2016
Website: lenovo.com
[Image credit: Lenovo]
HiSense H8 Series
4K TVs will still cost you a pretty penny, especially if you're interested in high-quality picture. But HiSense is changing that with its new H8 Series.The company has taken top-of-the-line 4K tech and put it into relatively inexpensive, 50 and 55-inch smart TVs ($599 and $699 respectively). While these TVs don't quite meet the new UHD Premium specification, they are HDR-compatible. The H8s also feature local dimming, delivering blacker blacks for overall improved picture quality. HiSense has made high-quality 4K affordable to everyone with its H8 series, and that deserves our recognition.
Price: starting at $599
Available: April 2016
Website: HiSense-USA.com
[image credit: HiSense]
Contributors to this feature include Chelsey B. Coombs, Suzanne Kantra, Josh Kirschner, Eden Pontz, Stewart Wolpin