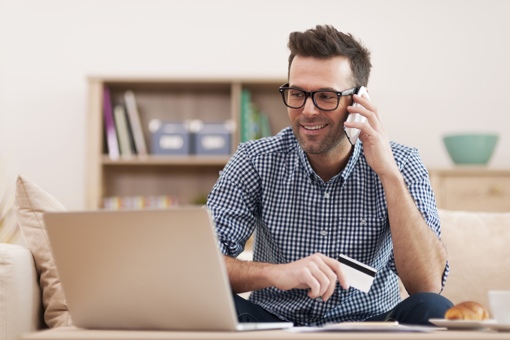 What's the weakest link when it comes to protecting your bank balance, stock portfolio and other financial accounts? Chances are, it's not your password – especially if you've taken the effort to choose a strong one. No, the real soft spot is likely your bank's customer service phone line. When hackers stole millions of debit and credit card accounts from Home Depot and Target, some thieves were able to reset customers' PINs and make fraudulent cash ATM withdrawals through social engineering and exploiting weaknesses in automated bank customer service lines.
Thankfully, banks are working to shore up their vulnerable phone lines to prevent these kinds of impersonations. And they're turning to voice fingerprinting to do it. According to phys.org, companies across the world are collecting samples of your voice for identification purposes. At the Vanguard mutual fund company, customers are required to authenticate with their own voice, speaking the phrase "at Vanguard, my voice is my password" for access. English banking giant Barclays is rolling out voice authentication for all its 12 million customers following a successful test of the tech, as well.
Voice fingerprinting works because each person has a unique way of speaking. These systems analyze the way air moves up through your lungs, vocal cords and mouth, comparing your live sound to past recordings. Modern voice tech is smart enough to ID you even if your voice is altered due to a cold, just as its smart enough to be able to tell the difference between the speech patterns of identical twins.
There are some drawbacks to voice fingerprinting, though. First, there's an issue of cost: Voice fingerprinting is more expensive for banks to use than traditional methods due to computing and storage requirements. Secondly, a person could theoretically record your voice and play it back later to trick an automated system. And, of course, an estimated 8 out of every 10,000 adults are mute and unable to use their voice at all.
Still, the benefits of voice fingerprinting appear to outweigh these drawbacks enough for the banking industry to move forward with it. There is currently an estimated 65 million voice fingerprints on file at public and private institutions around the globe. "The general feeling is that voice biometrics will be the de facto standard in the next two or three years," confirms Iain Hanlon, an executive at Barclays.
[Man banking by phone via Shutterstock]