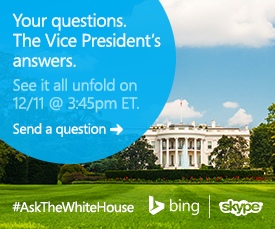 From Twitter to Reddit, modern technology has made it easier than ever to stay in touch with celebrities and policymakers. This Wednesday, technology will bring you closer to Vice President Joe Biden during the White House's live interactive Skype discussion on immigration policy.
On December 11 from 3:45 to 4:30PM Eastern, Joe Biden and the President's Domestic Policy Advisor Cecilia Muñoz will field questions from the American public at bing.com/whitehouse. If you'd like to participate yourself, you'll need to download and install video messaging program Skype. Add "Askthewhitehouse" to your Skype contact list, and then send in your question now as a video message. Recorded questions should be 10 to 20 seconds in length. If you're camera shy, you can also share text-based questions on Twitter by using the hashtag #AskTheWhiteHouse.
Of course, you don't need to participate directly – you can simply watch the event unfold on Bing as an observer. Just be sure to visit bing.com/whitehouse Wednesday afternoon at 3:45 Eastern (12:45 Pacific).
Naturally, the Skype discussion will revolve around immigration policy – a priority of the current Obama administration. Immigration reform legislation, including a path to citizenship for certain illegal immigrants, easily passed the U.S. Senate by a 67 to 27 vote earlier this year. The president supports the bill, but progress on the issue is currently being roadblocked by the Republican-led house.