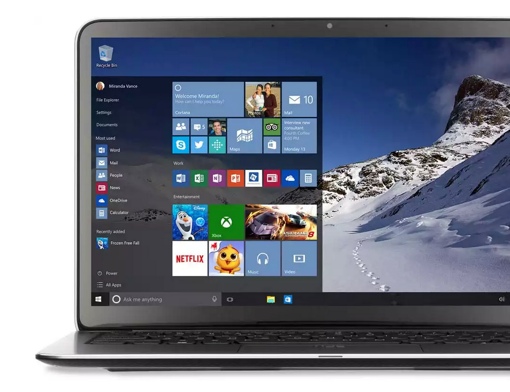 Microsoft's Windows 10 finally has a launch date, July 29, 2015. The new operating system brings with it a new-but-familiar design, smartphone-esque features, biometric security tools and more. And best of all, it's a free upgrade for anyone currently running Windows 7, 8 and 8.1 so long as you download and install in the first year. (Otherwise, Windows 10 Home will cost you $119 to install on a new machine.)
A lot of details about Windows 10 have been leaked piece by piece over the last few months – so much so that it can be difficult to tell exactly what's new in it. To help clarify matters, I've compiled a lost of the good, bad and ugly about the new Windows 10 operating system. Will Win 10 be Microsoft's redemption in an increasingly mobile world? Take a look, watch the videos and decide for yourself.
The Good
Windows 10 provides a classic desktop experience. Personally, I didn't like the Windows 8 design – it tried too hard to cram a touchscreen experience into a platform still largely operated by mouse and keyboard. Windows 10 is different, because it looks more like the well-received Windows 7. You don't have to launch apps full screen (you can snap up to four in place), and there's no Metro style start screen filled up with live tiles. Instead, these live tiles are now hidden away under the start button, which seems like a much better place for them.
Windows 10 is continually evolving. Unlike past versions of Windows, Microsoft is releasing Windows 10 on a servicing model. Updates are now free and continuous – you won't need to wait for Windows 11 and drop another hundred bucks to download next year's great new feature, whatever it is.
Windows 10 has Cortana integration. If you have an iPhone, you've likely fallen in love with Siri, Apple's personal digital assistant. Well, Cortana is like Siri for your computer – she performs local and web searches, answer factual questions ("How tall is the Washington Monument?"), set reminders and more, all by voice. You can also set Cortana to respond to "Hey Cortana," so there are no buttons to press. Just say "Hey Cortana, set a timer for 10 minutes," and your will is done instantly. Very cool.
Windows 10 has a new-and-improved Internet browser. Once the go-to program for surfing the net, Internet Explorer has fallen out of favor for obvious reasons – it's slow and has a history of security problems. Thankfully, IE has been replaced in Windows 10 by a new browser, currently named Project Edge. It has a new engine for faster performance and Cortana for hands-free search. It also lets you annotate web pages right on the screen with pen-like tools, copy and save content to OneNote, and share with your friends via email or social media. There are a lot of new safety features too, like its contained sandbox design – malicious code will find it difficult indeed to move from Edge to the rest of your computer.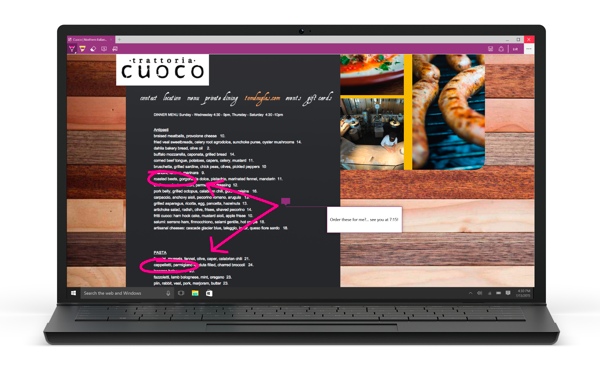 Windows 10 comes with great new advanced security features. As you probably know by now, the standard user ID and password doesn't really hold up as reliable security. Windows 10 raises the bar here with Windows Hello, its new biometric face, iris and fingerprint identification system. Combine with the right set of hardware, you can prove your identity and unlock your computer simply by looking at its camera. And paired with Windows Passport, these same biometrics will soon be used as your password to access partner apps and websites, just like on your phone.
Windows 10 is great for gamers. If your family has an Xbox One, great news: You can stream games from the console directly to any connected Windows 10 computer. Prefer the classics instead? Windows 10 has something for you there too: The new operating system is bringing back Solitare, including a Free Cell version. Think of how great that victory card cascade is going to look on a new 4K monitor! And yes, Windows 10 has HoloLens virtual reality support for the games of the future – the kids will love playing Minecraft in VR.
Windows 10 is built around all your devices. If you have a smartphone, you'll love that all the best Windows 10 apps are available for your phone, as well. It's super easy to sync your important files, like your photos. Windows 10 is great for hybrid devices like the Surface 3, too – it automatically optimizes itself when it senses you're switching between laptop-type use and tablet-type use.
The bad
Granted, there's not a whole heck us here at Techlicious don't like about Windows 10, but it does have its issues. If you use your computer to watch movies, bad news: There's no Windows Media Center built in to Windows 10, and no DVD support either. If you want to watch a movie, you'll need to download separate playback software first. (A Microsoft manager says a DVD playback option will come "in an update later this year.")
Microsoft has changed how updates work. For some people, the change is a positive – you no longer need to approve updates and install them manually. They just happen automatically now. This appears to mean that you'll be unable to defer updates if you're running Windows 10 Home. You'll also be unable to skip updates that wind up being buggy, a huge issue with a recent error-filled patch that Microsoft ultimately urged users to uninstall.
The ugly
Here's the biggest problem, though: Windows 10 may not be ready for public consumption on July 29. The current public beta of Windows 10 is still loaded with bugs, issues that cause crashing, problems with drivers and more. Much of this will be fixed over the next month or two, but only after Microsoft finalizes the Windows 10 build it sends to computer manufacturers like Dell and HP. This means you may be stuck updating Windows 10 for a long time after installing it – no small problem for those with slow Internet connections. You may also be stuck with a handful of peripherals that don't work with Windows 10 at launch.
If you're thinking about buying a new Windows 10 machine, you may want to wait a few days after launch for all the big issues to work themselves out. If you're doing a simple upgrade, you may similarly want to wait. At the very least, make sure all your important files are backed up before you upgrade – a process you can start now.
[Image credits: Microsoft]