Four Ways to Keep Kids Safe Online
Techlicious editors independently review products. To help support our mission, we may earn affiliate commissions from links contained on this page.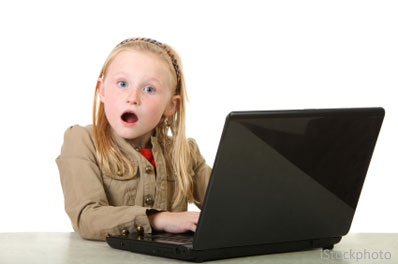 Today, kids start using the Internet early. Elementary school teachers send home web addresses where students can practice spelling and math and older kids use the Internet to do research for assignments.
So the worrying also starts early. Kids can accidentally or purposefully landing on a porn site. On social networks, kids can get bullied, befriend strangers or share too much information. And what about time limits? Some kids will stay online for hours, but is doing so in their best interest?
The good news is there are plenty of parental control tools at your disposal.
Basic Protection in Operating Systems and Browsers
Both Windows and Mac OS X have built-in parental control features.
On a Windows 8 machine you can get to what Microsoft calls "Family Safety" either by going to Control Panel, User Accounts and Family Safety, or in Internet Explorer by clicking on Settings (the cog on the top right of the browser window), Internet Options, Content. From there it's pretty self-explanatory and lets you add your child as a separate user and designate what kinds of websites, games and apps he or she can access as well as set time limits that control when the child can use the PC. You can even get activity reports. Here's how to do it on a Windows 7 machine. Make sure you download Family Safety (free on microsoft.com) to get the website filtering and activity reports available with the built-in Windows 8 controls.
In Mac OS X you can set up your Parental Controls within System Preferences so as to manage, monitor, and control the time your kids spend on the Mac, the sites they visit, and who they chat with online using Safari.
Neither Google Chrome nor Mozilla Firefox include parental controls, but there are several Firefox extensions you can add to the browser. Keep in mind, however, that tech-savvy kids can easily disable them.
Even Better: Parental Controls in a Good Security Package
You may have access to more parental controls than you think, if you use an Internet security suite. That's because top-notch computer security companies, like Trend Micro, Symantec, Kaspersky and McAfee, build parental controls into their packages. All include the ability to restrict Internet access to inappropriate content and set time limits.
Trend Micro's Titanium 2013 Maximum Security
, Symantec's Norton Internet Security 2013
and Kaspersky Internet Security 2013
provide tools to make social networking sites safer by providing protection against malicious links and giving you control over who they communicate with. You can also get reports on your child's browsing habits and even see what they're watching online with. Trend Micro and Symantec also provide reports on what your child is searching for and where they're going.
Best: Standalone Software
Parents who don't want to take any chances should invest in software that laser focuses on protecting kids from Internet dangers. Here are our picks.
Bsecure Online
Bsecure Online offers filtering protection and reporting tools for Windows and includes social networking protection, online media filtering, text and e-mail alerts to parents regarding web and social network activity and a "whole home filtering" feature that filters any web-enabled devices that connect to your network, such as visiting laptops, iPhones and gaming consoles. Cost: $50 for three licenses at Bsecure.com.
Safe Eyes
The Safe Eyes parental controls product is part of McAfee's security portfolio and is compatible with Mac, PC, and iOS operating systems. It includes content controls that let you choose which kinds of websites and content are appropriate; program controls that control instant message programs, iTunes and peer-to-peer file sharing programs; time controls that lock down how long and at what times of day a child can use the Internet; usage logs that reports websites visited, programs used on the Internet, and instant messaging chats; as well as e-mail, text or phone alerts when someone visits an inappropriate website. Cost: $50 for three one-year licenses at InternetSecurity.com.
Don't Forget About Mobile
In my story Mobile Devices: The New Pacifier, I recently reported that 25% of kids younger than 13 own their own mobile device and according to research firm Nielsen, more than half of teenagers between 13 and 17 have a smartphone. This means a lot of kids have full access to the Internet and its perils when they're on the move. Be sure to use one of these effective apps for mobile devices.
Net Nanny for Android
Net Nanny makes a Mozilla browser default on your child's device and even syncs with your Firefox desktop browser so you can access bookmarks and browsing history. It also offers plenty of ways to monitor, manage and block apps—a nice feature, considering Android on its own doesn't require a log in before downloading them. It comes with age-appropriate or custom filtering, a feature that will replace swear words with characters like &%$@ on websites that are otherwise harmless. It also lets you manage and see activity on all your children's devices from a web console. Net Nanny e-mails parents a weekly activity summary for each child. Cost: $20 a year after a 14-day trial period. Available at Google Play.
AVG Family Safety for iOS
AVG offers a free mobile browser to use as an alternative to Safari on Apple mobile devices. It protects kids from inappropriate websites, scams, fraud, phishing and potentially malicious websites. AVG Family Safety also includes a Do Not Track feature that tells you which websites are collecting data on your devices and lets you control whether to allow it. The app also records browsing history and bookmarks for favorite websites. Free at the Apple App Store.
Bottom Line: Technology Doesn't Let Parents Off The Hook
All of these tools aside, Peter Beardmore, senior director of product marketing for the security firm Kaspersky Lab, warns that all the technology in the world can't keep kids completely safe if parents aren't involved. "We obviously sell technology and products that can help you parent, but the products and the technologies in and of themselves are not the ultimate answer to the problem. The ultimate answer to the problem is good communication with your kids, making sure that they actually understand the threats and the dangers that are out there, and facilitating supervision is where we can bring tools to bear," he says.
For one thing, parents need to take a unique approach for each individual child.
"It really requires thinking a lot about who your kids are, what their personalities are, what types of things they're likely to find themselves looking at and where the potential threats are in those areas," he says.
Beardmore points out that four or five years ago the thing for parent to worry about was which websites their kids might access on a PC. Now, it's a much more complex landscape when you consider kids are walking around with mobile devices in hand, texting people and using apps such as Skype or Facetime.
And speaking of apps, how do you know the apps your child is downloading won't be harmful? Beardmore says there are several questions parents need to think about in terms of apps:
Do you know which apps your child is downloading? Android doesn't require a log-in for downloads and although iOS does, some parents give their kids the password anyway. Security tools can help with this transparency.
Who is the publisher of the app and how is it monetized? Will my child be tempted to buy in-app purchases?
Is the app part of a network that includes others outside of her domain of friends? Will strangers be able to communicate with her?
"These are things that we can throw technology at and we can throw additional intelligence and filtering capabilities as this world expands but we can't do it 100 percent, we can't do it completely," Beardmore says. "It still requires that visibility of what's going on those devices."
Discussion