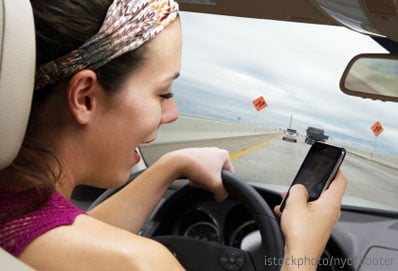 It is well known that teenagers are prone to engage in risky endeavors, but parents may not realize that the riskiest activity among teens is also one they frequently engage in themselves: driving.
According to the latest available statistics from the U.S. Centers for Disease Control, motor vehicle crashes are the leading cause of death among teenagers, and drivers in the 16-19 age group are four times more likely to crash than older drivers. The reasons vary widely, of course, but often they involve speeding, talking or texting on a cellphone while driving, and driving at night.
Yet, while parents can't always be riding shotgun to intervene when kids drive negligently, technology can—and a broad range of high-tech parent stand-ins is available to do exactly that, including add-on devices that parents may install themselves, apps for the teen's smartphone, and built-in features or options offered by automakers such as Ford, Hyundai and Mercedes-Benz.
Do-It-Yourself Add-On Devices
Like an onboard nanny, the tiwiFamily driving safety system is a small (5"x4"x1") electronic box that gets mounted on a corner of the windshield near the driver and utilizes its own built-in GPS and cellular data antenna to monitor where and how fast the car is driven as well as to send and receive alerts, notifications and emergency phone calls.
The teen's parent activates the tiwiFamily through a dedicated website, setting parameters such as how much over the speed limit the teen is permitted to drive; geographic zones in which the teen is allowed to drive (a feature called geofencing, because it sets up virtual boundary fences around a geographic area); destinations to which the teen is not permitted to drive; and the device's sensitivity to aggressive driving parameters. Particularly effective is the "Speed-by-Street" feature, which compares the vehicle's actual traveling speed to the posted speed limit for most public roads in the U.S. and Canada—so the tiwiFamily can know whether the driver is exceeding the actual speed limit at the moment, and isn't only looking for speeds that exceed a certain maximum, such as 75 mph.
In vehicles built since 1996, the tiwiFamily also can be connected to the vehicle's "OBD-II" (on-board diagnostics) port—usually found below and to the side of the steering wheel—allowing the device to know whether or not the driver has buckled his seatbelt, and to remind him to do it when he hasn't.
When any of the parent-set rules is breached, the tiwiFamily alerts the teen driver and provides "real-time mentoring through verbal...coaching and messages," says inthinc, the device's maker. At the same time, it will send the parent an alert via e-mail, a text message or a phone call. Reports can be viewed through the dedicated website, as well. Moreover, using the device's e-Call feature, a parent can call the teen through the device, and the teen can call for immediate, live emergency assistance by pushing the built-in e-Call button.
Prices for tiwiFamily range from $299.99 to $599.99 depending on the associated data plan selected. Inthinc says do-it-yourself installation is easy, but a list of local professional installers is also included in the package. "It can be disabled by destructive measures or unplugging it," inthinc says, "but an instant tamper notification" also will be sent in that case.
Mavia, from Mavizon, is a GPS- and cellular antenna-equipped dongle that plugs into an OBD-II port and––among other features for vehicle diagnostics—provides location-aware features such as geofencing, vehicle locating on a map, and location-based reminders. (So it will automatically send a reminder message to the driver as he drives by a specific location.) Setup is through a dedicated website.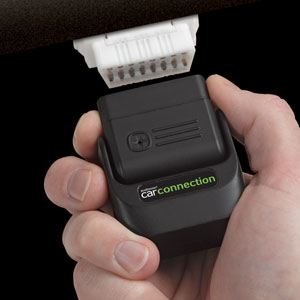 The Mavia is expected to be available this fall, but Mavizon is already accepting pre-orders at its website. Prices range from $169 for a single unit to $299 for a two-unit "family pack," plus $4.99 per month or $49.00 prepaid annually for the associated service.
Audiovox next month will launch the Car Connection, another OBD-II port dongle, which offers geofencing, vehicle locating and vehicle tracking features, as well as vehicle diagnostics features. Setup is through a dedicated website. It will also pair with an app for Blackberry and Android smartphones that will prevent texting while driving. The price for the device has already been set at $169.99, and the required service plan is expected to cost less than $10 per month, an Audiovox spokeswoman says.
Standalone Apps & Cellular Carrier Services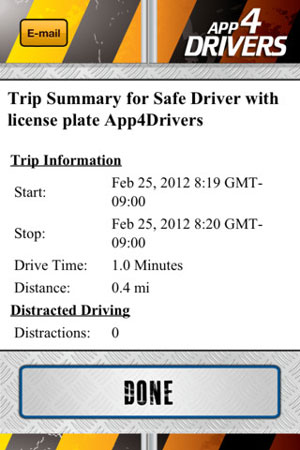 App4Drivers ($9.99) for iOS devices, from the developer Dangerous Decisions, is similar to tiwiFamily but relies solely on the GPS and accelerometer built into the mobile device—and also relies on the teenager to start it up.
Parents set limits for speed, acceleration, braking and cornering in the app, and password protection is used to guard against changes to these limits or data deletion by the teenager.
When it is running, App4Drivers detects and records incidents of texting and answering phone calls while driving, speeding and—based on calculated g-forces—aggressive turns, quick acceleration and sudden braking. It also records when the incidents occurred and pegs them to a map showing where. Drivers hitting 95 percent of any set limit are warned with visual and audible alarms. Violating any of the limits triggers a notification to the parent via text message or e-mail.
Dangers of Distracted Driving ($0.99) for iOS, from the developer SJC Web Design, is a textbook-like app that explores different distracted-driving scenarios and, through case studies, breaks them down into lessons to remember. It's all organized into five sections: The Basics of Distracted Driving; Use of the Kill Zone Theory; Following-Distance Scenario; The Reaction Time Process; and Over Driving Your Headlights.
In the cellphone services realm, Sprint offers Drive First ($2 per month per phone line), an app for Android smartphones that automatically detects when the phone is in a moving vehicle and prevents access to text messaging, phone calls and most other apps. (Access to three driving-related apps, such as a navigation app, can be selectively allowed.) Incoming calls are automatically routed to voice mail, and incoming texts may be sent a a customized message via auto-reply. Incoming calls from three specific phone numbers––such as the parents' numbers––can be designated to always ring through. Parameters can be set by the parent at a dedicated website. In addition, the account holder (parent) can be alerted if the app is "overridden" by the user (teenager), Sprint says. Overriding is possible to stop Drive First from working, for example, when the device is being carried in a fast-moving vehicle other than a car, such as a commuter train.
T-Mobile offers the similar DriveSmart Basic (free) and DriveSmart Plus ($4.99 per month per account, covering all phone lines on the account). Both apps work only on Android smartphones, and the Basic version is already pre-installed by T-Mobile on select devices. DriveSmart Plus can be downloaded from the Google Play app store.
The primary difference between DriveSmart Basic and Plus is that the Basic app must be manually activated and deactivated, whereas the Plus app is automatically triggered when it detects the phone is moving at a speed of 10 mph or faster. DriveSmart Plus also offers an override function, that also can trigger a notification to the account holder (parent). As with Sprint's DriveFirst, the parameters used by T-Mobile's DriveSmart apps can be set at a dedicated website.
Offered by Automakers
Some automakers offer factory-installed features that are good for keeping teenage drivers in check.
Hyundai Blue Link—available in the 2012 Azera, Sonata Hybrid and Veloster, and in the 2013 Genesis Coupe and Elantra GT—lets parents set geofencing boundaries, speed limit alert and curfew alert parameters at a dedicated website, and notifies the parent by an e-mail, text message or phone call each time these are violated by the teenager. These features all are included in the Blue Link Essentials Package, which is priced at $179 per year.
Mercedes-Benz mbrace2––available in all 2013 model-year vehicles––also offers geofencing and speeding alerts, as well as a "breadcrumbs" function called Driving Journal. The last tracks and records where the car has been driven and shows this travel history on an online map, at the same dedicated website where parents set the parameters used for the alerts. The geofencing feature, called Travel Zones, lets parents set up as many as 15 geographical locations where the car is not allowed to be taken, ranging in area from a single building address to an entire state, and ranging in specificity to a single day of the week. Alerts can take the form of a text message or an e-mail or both. All of these "family driver monitoring" features are included in an extra package that adds $20 per month to the $280 per year basic cost of mbrace2 service.
GM's OnStar service offers Family Link, a package that includes the ability to find a vehicle's location at any given moment, and also to set up specific intervals when the vehicle location should be sent automatically via a text message or e-mail. But Family Link does not include geofencing, speed limit or curfew alerts. The FamilyLink package costs $3.99 per month and is additional to any other OnStar subscription fees.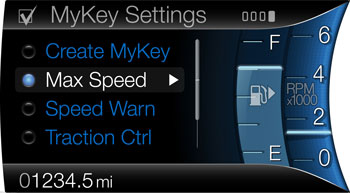 Lastly, Ford provides a special programmable car key for teens, called MyKey, for its vehicles equipped with the automaker's SYNC with MyFordTouch system. According to preferences set by the parent in the system, when the MyKey is used to start the car, a whole range of vehicle function limitations can be automatically engaged: incoming text messages and calls to a Bluetooth-connected cellphone can be blocked, with calls diverted to voice mail and texts saved on the device for viewing later; the top speed of the vehicle can be limited to 65, 70, 75 or 90 mph; a speed chime alert can be set to sound at 45, 55 or 65 mph; a "no belts, no tunes" feature mutes the audio system until front occupants buckle their seatbelts; audio system volume can be limited to 44 percent of maximum output; satellite radio channels with "adult programming" can be blocked; the low-fuel warning can be set to activate early, beginning at a range of 75 miles to empty; and the vehicle's traction control system cannot be disabled. For the 2012 and 2013 model years, MyKey is available with 11 Ford cars and trucks: Fusion, Taurus, Edge, Flex, Focus, Mustang, Escape, Explorer, Expedition, F-150 and Super Duty.