Review of the Nokia Lumia 900 (AT&T)
Techlicious editors independently review products. To help support our mission, we may earn affiliate commissions from links contained on this page.
The Nokia Lumia 900 has a lot riding on it. It's not just question of whether it's a good phone, but if this is the phone that will make people want to switch to Windows Phone 7.
Since the launch of Windows Phone 7 in the fall of 2010, there has been little innovation from a phone perspective. Last fall, with the release of Windows Phone 7.5, there were a few introductions, including the sleek little HTC Radar, 4.7-inch HTC Titan and Samsung Focus S. None, however, broke new ground from a technology or style perspective.
The hope for a breakthrough device has come from the recent Nokia-Microsoft partnership, leveraging Nokia's experience building high-quality phones and Microsoft's solid, but underappreciated operating system.
The most promising offspring of this partnership is the Lumia 900 that we first saw as a design concept last year. The bold styling and colorful design gave us reason to believe that Microsoft may be able to grow into a true challenger to iOS and Android.
Now that the Lumia 900 is here, we finally get a chance to evaluate the full package. It has a familiar AMOLED 4.3-inch display, decent battery life, is peppy enough to easily run any apps you'd want to install and the blue case is quite striking. However, its camera underperforms and the phone's sharp edges make it uncomfortable to hold. In short, it's a beautiful but flawed device that, in my opinion, does little to advance the cause for Windows Phone.
Read on to find out more.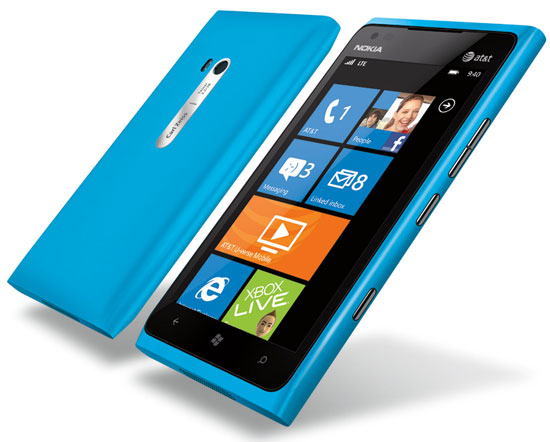 How it feels in the hand
The Nokia Lumia 900 is an attractive looking phone, with its 4.3-inch AMOLED display and colorful case (comes in blue, black and (soon) magenta). However, the phone's sharp corners keep it from being comfortable to use, especially with one hand. And the phone is quite long at 5.03 inches, which makes it unwieldy for smaller hands (like mine) to hold.
The volume rocker is easy to find and use, as is the dedicated camera button. However the power button placement is problematic. It lies between the volume rocker and camera buttons in the place I would naturally hold the phone, so I found myself constantly hitting it by accident.
Display & Sound
The display on the Nokia Lumia 900 is what you'd expect from a 4.3-inch 800x480 AMOLED display: It's bright and has crisp text. With so many AMOLED displays out there, though, it's not a standout. And many Android phones are now shipping with 960x540 qHD resolution, so the Lumia 900 is already behind the ball. I do like the fact that it's protected by scratch-resistant Gorilla Glass.
The speakerphone on the Nokia Lumia 900 did a fine job and call quality and volume was good.
Web browsing & mobile hotspot
The Nokia Lumia 900 uses Microsoft's Internet Explorer 9 browser, with no support for Adobe Flash. Lack of Flash continues to be an issue for many sites, which makes the browsing experience somewhat limited. While the iPhone also suffers this limitation, Android devices do not.
The AT&T LTE network delivers data at high speeds, making the experience on most sites snappy and video playback on Netflix quite smooth. I'm not able to provide specific speed readings because our standard measurement app, Speedtest, isn't available for Windows Phone and the web version speedtest.net uses Flash.
The Lumia 900 can act as a mobile hotspot for five other devices.
Camera & video recording
The 8MP camera on the Nokia Lumia 900 was disappointing, especially considering the Carl Zeiss optics and Nokia's reputation for excellent cameras. There was a lot of noise in large blocks of color, images were soft and the colors lacked depth.
There are more than the usual number of manual controls— white balance, exposure, ISO, metering, contrast and color saturation—plus a number of scene modes and special effects. And, you can preview them all before applying. If you like your results, you can save your settings so the camera will default to them when it's turned on.
Video was acceptable for a smartphone. There was a lack of detail, noise in solid color areas and colors were somewhat muted, but there was no stuttering and the camera acquired focus easily. There are very few smartphones with decent 1080p video, so I'm not dinging the Nokia Lumia 900 for being just 720p.
Keyboard & Navigation
The Nokia Lumia 900 runs Window Phone 7.5 Mango, which rolled out to devices last fall. Updates included multitasking, email improvements (including an integrated mailbox for all your email accounts) improved search, support for mobile hotspot and integration with more social networks, including Twitter.
The home screen features a selection of apps and even elements of programs. Called Live Tiles, these icons can show information like the current temperature, your next appointment, a favorite contact, or recent photos. You can pin tiles to your heart's content, but you can't create folders and there's just one home screen. So finding apps, if you have a lot of them, can be challenging.
Preloaded on the device, you'll find Windows Phone 7 versions of Word, Excel, PowerPoint and OneNote. Opening an attachment from email and viewing the document were about as easy as can be expected from a mobile phone and creating documents is easy. You'll find a few more apps pre-loaded including AT&T Code Scanner, AT&T Navigator, AT&T Radio AT&T U-verse Mobile, Tango (video chat) and ESPN. Nokia also provides free of charge Nokia Drive (complete with international maps), Nokia Transit, Nokia Maps, Contacts Transfer, 100th Day of School (a Sesame Street game), CNN, Univision, which you can download from the Marketplace.
The Windows Phone Marketplace continues to lag behind iTunes and Google Play, with 70,000 versus hundreds of thousands of apps. You'll find many of the most popular apps, including Netflix and Angry Birds, but some are missing. You won't find Pandora, Words with Friends (or any Zynga apps) or any of the Google apps. And while Skype is coming, you're stuck with Tango for video call for now.
The Lumia 900's 1.4Ghz single core processor isn't impressive from a spec perspective, but it has plenty of power to run the apps and games I threw at it.
The keyboard is well spaced and responsive. I especially enjoyed using the landscape version, where I could thumb type quite quickly.
Storage
The Nokia Lumia 900 has 16GB of onboard memory available and no microSD slot for expansion. That's not enough for media addicts.
Battery life
Battery life on the Nokia Lumia 900 was fine for an LTE phone, but not outstanding. It would last me through the day under normal usage, but would be pretty close to dead by the next morning.
Pricing and availability
The Nokia Lumia 900 is available for $99.99 from AT&T or for $49.99 from Amazon Wireless
with a new, two-year customer agreement. That's about on par with similarly spec'd Android phones.
Should you buy it?
Unless you're specifically looking for a Window Phone device, I have a hard time recommending the Nokia Lumia 900. The camera is lacking and the sharp edges make it uncomfortable to hold. Plus, there are plenty of other great options for AT&T, including Apple iPhone 4S, Motorola Atrix 2, Samsung Galaxy Note, and the HTC One X.
If you do want a Window Phone device, the Lumia 900 makes a distinct style statement. And it does have enough processing power for most users, a decent battery and fast downloads on AT&T's speedy LTE network. But I was really hoping for so much more.
Rating: Neutral
Detailed Specs
Talk and Standby Time: Up to 7 hours talk time, up to 12.5 days standby
Band/Modes: GSM 850/900/1800/1900 MHz, WCDMA 850/900/1900, LTE 700/1700/2100
OS: Windows Phone 7.5 Mango
Weight: 5.6 oz
Dimensions: 5.03 x 2.7 x 0.45 inches
Battery: 1830 mAh
Display: 4.3" AMOLED (800 x 480) with Gorilla Glass
Video: 720p
Camera: 8.0 megapixel, Auto Focus, Touch Focus, dual LED flash, Manual white balance, Carl Zeiss Optics
Front-facing Camera: 1 megapixel
Mobile hotspot: Up to 5 devices
Processor: 1.4GHz Single Core
Memory: 512MB RAM, 14.5GB available onboard storage
Discussion