We may earn commissions when you buy from links on our site. Why you can trust us.

Review of the Tineco Pure One S12 Stick Vac
Tineco's Pure One S12 stick vac is loaded with features that make it a pleasure to use. When compared to the more than half a dozen stick vacs I've been using over the last year — Anker Eufy HomeVac S11 Infinity ($299), Dyson V15 Detect ($699), LG CordZero A9 Ultimate ($599), Miele TriFlex HX1 ($499), Proscenic P10 Pro ($199), Raycop Omni Air ($299), Roborock H7 ($499), Tineco Pure One S12 ($499) — it comes up just short of my top cordless stick vacuum pick, the entry-level Miele Triflex HX1. If you can find the Pure One S12 on sale for even $50 off ($50 less than the Trifelx HX1), though, it's a reasonable alternative.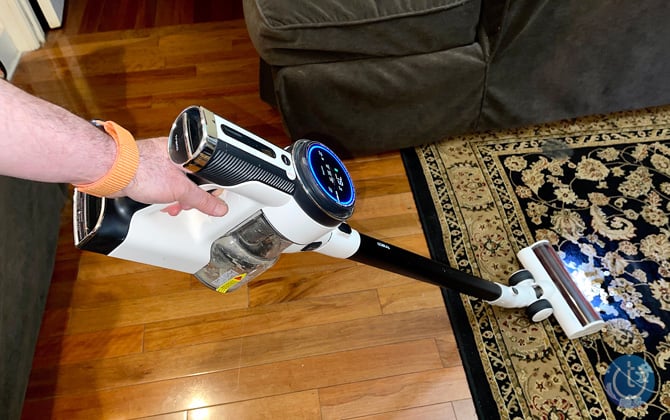 Pros
Above average suction
Manually adjustable suction
Large color LED screen
Front LED light
Included second battery
Easy to clean
Cons
Needs to be wall mounted
Unexpected suction speed changes in Auto mode
Doesn't lay as flat for under upholstery cleaning as other models
Tineco'sPure One S12 ($499) is arguably the most fascinatingly featured stick vac I've run across – just listing the number of helpful bells & whistles can get dizzying:
Manually adjustable suction speed – just run your finger up and down the touch control to choose the precise amount of vacuum power desired
"iLoop Dust Sensor" – in Auto mode, the S12 can detect hard-to-see dust and automatically adjusts the S12's suction speed accordingly
Separate attachment to quickly clean filter; two filters included
Can be operated both intermittently by holding the trigger or continually via a "sustain" switch
3.5-inch round color LED screen that imparts more useful information than the display of any other stick vac
Two batteries included, both able to be simultaneously charged in the wall-mount dock
The S12 is also quieter than other stick vacs I've tested – at its noisiest it generates a relatively subdued 71db of suction sound. A front LED light on its primary multi-surface brush illuminates the dirt ahead of it. There's also an accompanying app, although I couldn't discover its real-world value.
My only hesitancies to recommending the Tineco Pure One S12 at its sometimes discounted $429.99 price over the entry-level $499 edition of the Miele Triflex HX1 is the latter's top-shelf suction and modular flexibility (you can move the motor so it can stand alone upright), and the former's need to be wall mounted to charge. But at the S12's regular $499 price, even with all its unique pluses, I consider the entry level Miele Triflex HX1 a slightly superior stick vac value.
Setting up the Tineco Pure One S12
Upon first setting up the S12 you are confronted with this stick vac's biggest problem: the wall mount. All other stick vacs I've encountered include a wall mounting option, but all also can be charged without screwing anything into your wall. But with the S12's design, you need the permanently attached wall mount to hang charge the S12, an unnecessary necessity.
Attachments that are included:
multi-surface brush
mini power brush
2-in-1 dusting brush
soft dusting brush
crevice tool
flexible long crevice tool
The wall mount does accommodate four of the included cleaning attachments as well as the combined wand brush/hair cutting tool. An included cloth bag holds the remaining attachments.
Also included is a slightly larger than average 20.3-ounce (600 milliliter) dustbin so you won't need to empty it as frequently as other vacs with smaller dustbins.
Using the Tineco Pure One S12
S12's suction ranks just slightly below the Miele Triflex HX1 and the Dyson V15 Detect. And like these two top models, what the S12 sucks up stays sucked up – there's no dirt leakage from the cleaning head or the wand when you switch off power or switch attachments. Its suction was so powerful that I had to push hard across high or even medium pile rugs, and the S12 sometimes skipped when I pushed it. But I generally encountered few problems sucking up any of the substances I tested it with, including pet hair.
The S12's most unique feature is its auto/manual speed settings. In auto mode, the suction speed audibly and visibly adjusts depending on the surface and the cleaning need as sensed by the S12. If you don't like the frequent auto adjustments, just run your finger up or down the vertical surface on the handle to manually adjust the suction speed as high or low as you want; a white bar LED on the LCD screen indicates the power level.
Encircling the LCD screen is a "dust monitoring loop" LED. As you start the LED circle is all blue. As you encounter more dust, sections of the "loop" turn red. As you clean an area the LED turns slowly back from red to blue, but I never seemed to get back to solid blue on any surface I vacuumed. The "loop" LED combined with the front light on the primary 9-inch-wide cleaning head that illuminates the area to be vacuumed are better at confirming that you haven't missed a spot than with any other stick vac I tested. (The entry-level Miele Triflex HX1 lacks this cleaning head light.)
You get 50 minutes of vacuuming time on a single battery in auto mode, so around 100 minutes with its two cells, which is about average. And at top suction speed on a single battery, you get a slightly above average 10.5 minutes of cleaning time.
Maintaining the Tineco Pure One S12
The Tineco S12 is the easiest to maintain stick vac I tested. It's easy-to-remove brush roller is quickly cleared of hair using the including hooked cutting tool. My only complaint is the roller's black color, which makes it hard to see any remaining dark-colored hair.
Removing and cleaning the S12's filters is even easier. A HEPA filter installed in the top of handle requires just a push of an inset release to pull out for easy rinsing. Even better is cleaning the pre-filter – which helps maintain top suction – easily twists out from inside the dustbin. The S12 comes with two pre-filters, one of which is inside the separate filter cleaning attachment. Just insert the dirty filter into the including cleaning attachment, connect the cleaning attachment to the vacuum, set the suction to its highest speed and, in five seconds or so, the filter is sucked clean – no running it under water and waiting 24 hours for it to dry. It's a uniquely clever and efficient solution.
The bottom line
If you can find the Tineco Pure One S12 discounted from its regular $499 price, you'll score a cheaper and reasonable alternative to our top stick vac pick, the Miele Triflex HX1. The S12's finely tuned auto and manual suction modes are unmatched, you get a better cleaning confirmation, and it's almost a pleasure to clean. But, at its regular $499 price and with its required wall mounting, the S12 falls short of matching the overall function and value of entry-level edition of the Miele Triflex HX1, but is preferable to the LG CordZero Ultimate ($599) and maybe even the most powerful stick vac, the Dyson V15 Detect ($699.99)
.

[Image credit: Stewart Wolpin/Techlicious]
Stewart Wolpin has been writing about consumer electronics for more than 35 years, including news, reviews, analysis and history, and has attended and covered nearly 50 Consumer Electronic Shows and around a dozen IFA shows in Berlin. For the Consumer Technology Association (CTA), he is an elector for and writes the official biographies of the annual CTA Hall of Fame inductees and is the keeper of the industry's official history.
---
Discussion