There's no denying it, from the moment we get up to the moment we go to bed, we're all glued to our smartphones. A new work email. A new Facebook notification. The weather app tells us a storm is on the way. There's always another reason to pick up our phones because they do so much.
You probably know the basics your smartphone can handle, but there are still some things your smartphone can do that might surprise you. Amaze and delight your friends — and yourself — when you handle these tasks with your trusty smartphone.
Diagnose a leaky window

Whether you're dealing with harsh winters in the Northeast or blazing summers in the South, poorly sealed windows and doors mean your home is never just the right temperature. Finding leaky windows doesn't just make a home more comfortable; it saves money on electric bills.
Turn your phone into a thermal imaging camera with the Flir One add-on. This rectangular camera, weighing in at 2.8 ounces and measuring 2.8" x 1" x 0.7", plugs in to your phone's charging port. It adds a little bulk to your phone, but not much, and it's easy plug in when you need it. You may need to remove your phone from its case to use it.
Flir One works for both iPhone (any phone with a Lightning connector) and Android (any phone with a micro-USB connector) devices. Point your phone at an area, and watch it translate thermal energy into color images. Use it to scan the whole house to see where it's hot when it should be cool or cool where it should be hot. Flir One can even tell you where pipes need better insulation or help locate overloaded circuits.
Price: $222 for iPhone and Android from Amazon
Measure your heart health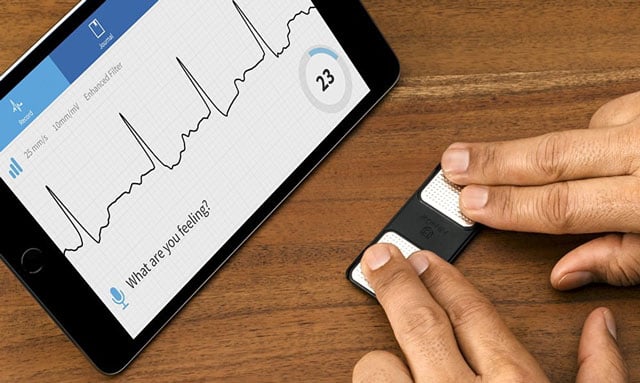 While fitness gadgets like Fitbit Charge and Apple Watch can give you data about your pulse, you won't get much detail. Don't take a trip to the doctor to get a detailed look at your heart health — there's a smartphone app (and device) for that.
AliveCor's Kardia mobile heart monitor is smaller than a credit card and takes just 30 seconds to capture your EKG and tell you if your heart rhythm is normal. Press your fingers to the touchpads, and the Kardia app (for iPhone and Android devices) will give you a snapshot of your current heart activity. The app also takes voice memos for symptom tracking and securely shares health data with your doctor. It can be a good way to keep a close eye on your heart health if you are concerned about heart health.
Kardia works with many iPhone and Android smartphones. Purchase a case or attachment plate ($10 to $15) to attach Kardia to the back of your smartphone to make scanning easy.
Price: $88 from Amazon
Prevent drunk driving

Imagine you're at a house party with a few close friends. You've all shared a glass or two of wine, and you feel like you're probably OK to drive — but it would be far more responsible to know for sure.
That's where the Bluetooth BACtrack Vio Smartphone Breathalyzer comes in. The compact keychain device measures the alcohol present on your breath in just five seconds, then wirelessly sends your BAC reading to your iOS or Android smartphone. The included app predicts how long it will take for your levels to return to 0 percent. It can even call an Uber for you!
BACtrack is developing a wearable called the BACtrack Skyn that monitors and tracks transdermal alcohol content so you don't need to blow into a breathalyzer. It syncs to your phone via Bluetooth and keeps logs of your blood alcohol level. There's no date yet when it will be available, but you can sign up to be notified when it's available for preorder.
Price: $49.99 from BACtrack and $39.19 from Amazon
See everything up close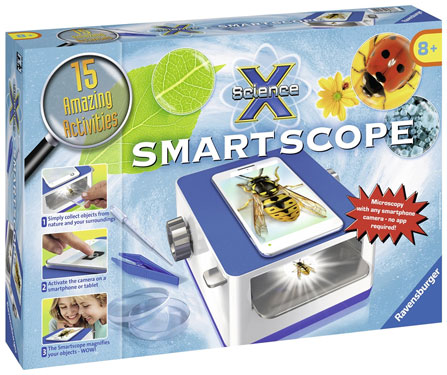 Your smartphone camera is already perfect for selfies and family snapshots. With some slight tweaks, you can turn it into a microscope to give yourself an all-new point of view. Satisfy your scientific curiosity (a microscopic examination of things from around the house makes a fun science project with the kids) or enjoy the aesthetics of greatly magnified photos.
Turn your phone into a powerful microscope with magnification levels up to 375x with this $10 DIY smartphone-to-digital-microscope project at Instructables. This home science project provides you with magnification that can show details as small as the nucleus in a plant cell. The project does require some DIY know-how, and the resulting microscope stand isn't exactly portable. When you're finished, you'll have to bring the science to the microscope rather than the other way around.
For a smartphone microscope as straightforward as you can get, try the Ravensburger Science X Smartscope Science Kit. The Smartscope's are nowhere near as powerful as the DIY project above, but there is enough power for kids to have fun looking a household objects up close. Use the built-in camera app to take photos and video or simply view things up close.
Price: $39 on Amazon
Measure your muscles

As any health expert will tell you, your bathroom scale isn't the best way to measure your progress at the gym. Muscle weighs more than fat, so gaining the occasional pound or two can be a very good thing.
The Skulpt Scanner helps you get a better handle on your fitness by tracking body fat percentage and muscle fiber size, not weight. It uses small electrodes to measure individual muscle groups and areas, and it relays the information to your phone to give you an overall picture of where you're making progress and where you're not.
The device even comes with an app (for iPhone and Android devices) that recommends exercises best for your body's unique composition plus advice from trainers and nutritionists on how to take your workout to the next level.
Price: $99 from Skulpt
Figure out why your check engine light is on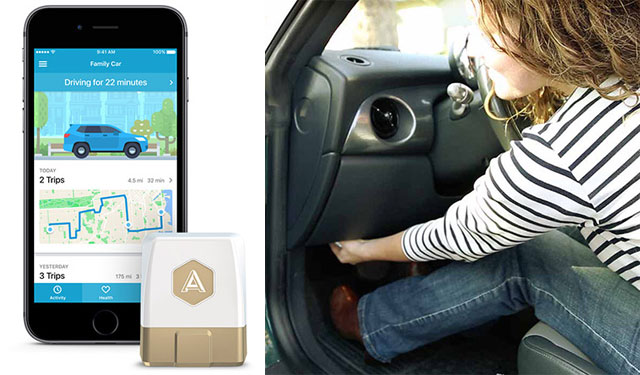 It doesn't matter how old or new your car is — you're going to run into car trouble eventually. And when that mysterious Check Engine light on your dashboard comes on, you want to know what's up without having to take it to a mechanic.
Automatic Pro plugs into your car's ODB-II port (usually located under the steering wheel) to turn your car into a connected car that talks to your smartphone. It works with most cars manufactured after 1996 and either an iPhone (iOS 9 or higher) or an Android smartphone (Android 5.0 or higher).
Automatic communicates via 3G (connectivity is free for five years with purchase). When it's not diagnosing mechanical issues, it can update you with status reports and let you know where your car is in the parking lot, even when you're out of Bluetooth range. If Automatic detects your car has been in an accident, the company will contact you and call emergency services if necessary. The app connects to a wide range of other apps to handle things like tracking work-related driving expenses and turning the A/C on at the house when you're nearly home.
Price: $129.95 from Automatic and Amazon
Remind you to drink enough water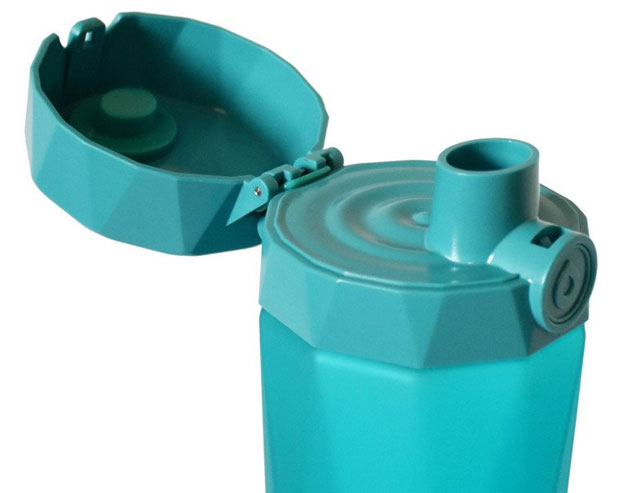 Most of us know we're supposed to drink plenty of water, but how often do we spend our days drinking coffee and soda instead? Many apps and fitness trackers can help you track how much water you're drinking, but they rely on making you enter how much water you've had.
The Hidrate Spark is different. It's a smart water bottle that tracks exactly how much you've had to drink today. Pair it with an app for iPhone and Android devices to give you an in-depth look at your water drinking habits. Met your drinking goal for the day? The bottle lights up to let you know!
Price: $54.95 from Hidrate Spark
Do some math (without a calculator)
Sure, your phone already has a calculator built in, but it requires that you type out the equations. That's fine if you're figuring out a tip or doing other simple calculations, but what about when you need to key in an algebra problem? Or what if you're struggling to understand an equation on your homework that makes no sense to you at all?
Photomath lets you take a picture of any math problem and get an immediate answer. It walks you through the steps to get to that answer, as well, making it a good learning tool. Photomath supports arithmetics, integers, fractions, decimal numbers, roots, algebraic expressions, linear equations and inequalities, quadratic equations and inequalities, absolute equations and inequalities, systems of equations, logarithms, trigonometry, exponential and logarithmic functions, derivatives and integrals.
Price: Free for iPhone and Android
Improve your basketball skills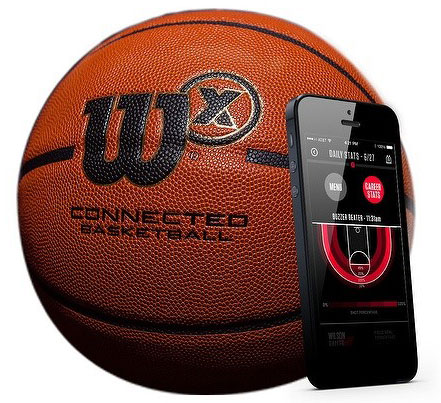 Want to take your basketball game to the next level? You could clear out the spare bedroom and drop some serious cash on a live-in basketball coach. Or you could save the six-figure expense and get a similar coaching experience from a smart basketball like the Wilson X.
The Wilson X basketball looks like an ordinary basketball, but it's a lot smarter. This regulation-size ball connects with your iPhone or Android smartphone to monitor your performance and run you through games and training exercises. It's a basketball coach packed into a smartphone app. Connect the ball to your smartphone by tossing the ball into the air — then you're ready to play, no matter where you are.
Price: $199.99 from Wilson and Amazon
Catch fish
Normally, a family camping trip is reason to leave the smartphone behind so you can better enjoy the great outdoors. But let's face it, this is 2016. Modern technology can make everything better — even your time away from it on the lake.
Check out the iBobber. This small, spherical device works as a fish-finding sonar in both salt and fresh water, helping you locate fish up to 135 feet under the surface. Attach it to a fishing line and cast it where you want to fish; it turns on automatically upon hitting the water.
This fish finder works with most newer iOS and Android devices; we recommend pairing it with a waterproof phone or tablet like the Samsung Galaxy S7 or S7 Edge. If you don't have a waterproof phone, this fishing trip is the perfect time to invest in a waterproof case. You can get a waterproof pouch like the Moko Cellphone Drybag for as little as $5.99 on Amazon.
Price: $89.99 from Amazon
Updated on 9/8/2016 with new picks
[Image credits: Hidrate, Ravensburger, SmartMicroOptics, Hidrate, FLIR, BACtrack, Skulpt, Wilson,