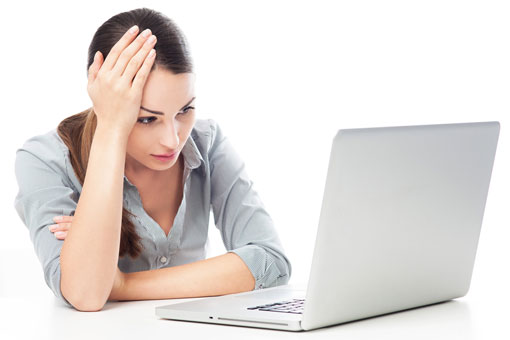 When was the last time you Googled your name? If you haven't, it's a good habit to get into, because it's exactly what a potential employer is likely to do when they're sifting through a pile of resumes. "The stuff people care most about is what they find when they Google you," says Michael Fertik, CEO and founder of online reputation-management firm Reputation.com.
That's why it's important that you own what you look like online. Depending on what you (or others) post on social networks or personal sites, what a search engine turns up may not reflect the accurate or professional picture you want it to.
But there's plenty you can do to make sure the best parts of your virtual self pop up on that first page of a Google search. Here, we'll walk you through how to do everything from maintaining current social media profiles to ensuring that your professional information appears first.
Decide what you want out there
While Facebook posts and photos might be for the eyes of friends and family only, privacy settings on more-public networks such as LinkedIn or Twitter can be more beneficial when relaxed. After all, you don't want to be completely invisible on the internet. "It's weird for people in this day and age not to have an online profile," Fertik says.
But if you haven't been refining your internet footprint over the years, your online profile may also include nuggets like ancient MySpace photos, an out-of-date company staff page, even out-of-context rants on old blogs — all of which can give someone the wrong impression.
Deleting these may not necessarily clear the internet of the detritus. In an age of retweets, shares, and linkbacks, the same photo can exist on many sizes across the web. So instead of wasting time and energy cleaning up a digital backlog, focus on strengthening existing profiles, which will help them beat the less-flattering stuff to the top of the search page.
Improve your LinkedIn profile
Surveys indicate that anywhere from 88% to 97% of recruiters go to LinkedIn to find candidates. LinkedIn profiles also turn up very high in Google search results, most likely due to the site's high traffic, how often it's linked to, and amount of content users post everyday. So it's not only a good idea to have a public LinkedIn profile, but to also ensure that it's accurate, current, and grabby.
LinkedIn trainer and speaker Viveka von Rosen says that the Headline field (the line beneath your name) is the easiest — and most-often overlooked — place to grab attention when building a profile. "Rather than going with the default (your title at your current company) take the opportunity to say what it is that you do. Something like, 'graphic artist working with startups in the Sudan,'" Von Rosen suggests.
Using keywords related to your field when describing yourself in the Summary and Experience sections can also help your profile turn up on Google if someone is searching for particular skills.
Once your profile is spruced up, you want to make sure it's visible on the web. Head into Settings and select Edit Your Public Profile. Then check that reads "Make my public profile visible to everyone." You can then reveal (or conceal) specific information within your public profile.
Von Rosen suggests allowing your Name, Photo, Headline and Summary to be open, while remaining cautious about revealing too much. "With identity theft, I limit what's visible publicly – for example, in a page of Google search results," she says.
Get active on Twitter
If you're on Twitter, regular posts relevant to your field can help build up your online profile for prospective employers. Like LinkedIn, Twitter profiles often turn up on the first page of Google search due to the site's traffic and content flow.

Reputation.com's Fertik suggests picking a Twitter username as close to your real name as possible. That way when someone searches for your name, it's your Twitter and LinkedIn profiles that pop up alongside your personal website and company blog.
Changing your username is simple: Head to Account and enter the new name. If it's available, it's yours.
If your Twitter page is very personal — say, intended for friends and home to some off-color opinions — it might make more sense to limit access to only followers you approve.
Being cautious in that way can do a lot to boost your chances. A CareerBuilder survey found that two in five employers check social-media during the hiring process. Forty-three percent of employers rejected candidates based on inappropriate or discriminatory content on their profiles. On the flipside, 19% of recruiters who scanned social-media profiles hired candidates based on positives they found within.
To stop your off-color Twitter feed from showing up on Google, head to Settings, then Security and Privacy, and select Protect. Bonus: This also prevents the Library of Congress from archiving your tweets.
Dial up the Facebook privacy settings
"Recruiters use Twitter to post jobs, LinkedIn to source candidates, and Facebook to eliminate candidates," von Rosen says.
Many employers take Facebook profiles into account, even if they shouldn't. A North Carolina State University study mapped Facebook behavior against personality traits. The researchers found that there's often little correlation between a person's real-life personality and how they portray themselves on Facebook, so employers could likely misjudge a candidate based on his or her profile alone.
To keep your Facebook profile out of search engine results, head into Settings, Privacy and select "No" in response to "Do you want other search engines to link to your timeline?" question.
Facebook no longer allows users to hide their profiles from the website's own search, but you can control how much of your profile will show up. For example, changing who can see your posts and photos to "Friends Only" means that a potential boss would see only your cover photo, profile photo, plus any About info — where you live, work, or went to school — that you've allowed to be public.
If a potential boss is in your extended Facebook network, you might want to change who can see future and past posts. We recommend setting updates as viewable to Friends Only — at least during the application process.
You can also clean up your feed post-by-post. Under Settings, Timeline and Tagging, there's an option to check how your timeline looks to the public (n.b., this includes anyone logged into their Facebook account). If the photos and statuses displayed aren't career-friendly, you can change individual visibility by selecting the photo or status, clicking edit, then changing "Public" to "Friends" or "Only Me" from the drop down menu.
If you have a fan page or are the administrator for a group with a lot of fans, allowing these pages to hit the search engines is good for boosting your online profile. For these pages, head to Settings, General, and make sure that "post targeting and privacy" is turned off. You can also lift any country or age restrictions (the page default settings are open and public).
For more on Facebook privacy settings, including how to limit what's shown to the Facebook public, check out our comprehensive guide.
Pull up the positive, push down the negative
Outside your own profiles, there's content on the web that's out of your immediate control. Things like rants from ex-employees, customer complaints, or unwanted photos from an past flame can paint a negative picture.
If you find an unflattering photo or inaccurate info on someone else's site, the best first step is to contact the site owner and request it be removed or updated. In most cases, the site owner will comply.
However, negative reviews and undesired content that has been posted on sites like newspapers, Yelp, Amazon, or Angie's List might be harder to take down. These larger companies are unlikely to grant a request unless you can prove the content is defamatory or inaccurate.
If they won't budge, you can try what services like Reputation.com do: publish more content to push the offending article out of the first page of search results. For example, publish a blog post, put up a photo set on Flickr, or add information to a public social profile, such as LinkedIn or Google+. "Make sure your latest and greatest resume info is posted in short narrative and bullet format on a variety of resume sites," Fertik says.
For bigger cleanup jobs, Reputation.com (and agencies like it) can take on the task for a fee (from $100 depending on the scale of virtual damage). Reputation.com uses patented algorithms to publish search engine optimized content. For example, the service might write and publish your professional details and biography at a selection of websites they say are picked especially for your field. By publishing lots of high-quality content with good keywords the negative content should be pushed further down the search results list.
Depending on the industry you want to work in, other social network accounts on less popular portals, such as Google+, Pinterest, and Tumblr, can help build an even more rounded online profile. If you work in fashion or design, for instance, a Pinterest profile can both show off your work and help you engage with fashion and design followers (i.e., potential customers).
Increasing the right kind of visibility — and diminishing what's less appealing — is key to putting your best face forward online. "If you're not findable by your subject matter and name," says Fertik, "people aren't going to be able to give you the opportunities."
[Worried woman image via Shutterstock]