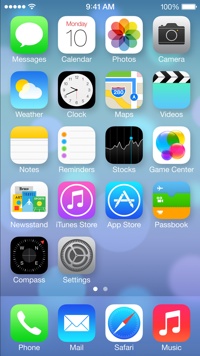 If you've been reading tech blogs on the internet, then you probably have a pretty negative opinion of iOS 7 so far. It seems like a new security flaw is discovered in the operating system every day. To be fair, many of these bugs are quite serious. Others, however, are hyped nonsense being pushed by blogs looking for page views.

Having trouble telling which is which? No stress – Techlicious has compiled a list of the most notable iOS 7 security flaws, separating the real problems from the hype.
Lock screen phone call bug
The bug: According to a report from Forbes, you can easily bypass an iPhone 5's lock screen to make phone calls via the Emergency button. After entering in a phone number, a thief can place any call by constantly pressing the green call button until the phone resets and places the call.
Should you be worried: Absolutely. It doesn't take any technical knowhow to exploit this bug – you simply need to know the bug exists. Anyone can make international or premium-rate calls from your phone despite it being locked, costing you a fortune.
How to fix it: Thankfully, this bug is squashed by Apple's latest update, iOS 7.0.2. If you haven't installed the update yet, you should do so immediately. Open the Settings app, then tap General. Choose Software Update, then tap Download and Install. You can read up about upgrading your iPhone's operating system here.
Lock screen Control Center bug
The bug: A 36-year-old soldier from Spain uploaded a video to YouTube showing yet another way to bypass an iPhone lock screen. In it, the man opens the Alarm Clock app via the Control Center. He then makes and cancels an attempt to power down the phone, at which point he double taps the home button to access the multitasking screen. From there, the phone is his digital oyster.
Should you be worried: Again, any exploit that bypasses your phone's lock screen is a dangerous one. With this exploit, it is easy to access your Facebook account, photos and more.
How to fix it: This bug is also addressed by 7.0.2.
Lock screen Siri bug
The bug: Siri can be accessed from the lock screen in iOS 7 if you so choose. The problem is that Siri isn't smart enough to deny intrusive requests for personal information about you. Anyone can ask Siri for your home address, the phone number you last called, and more.
Should you be worried: Siri can do just about anything in iOS 7. If you have Siri accessible from your lock screen, it's almost as if your phone isn't locked at all. This is a serious problem, but thankfully, one that's easily addressed.
How to fix it: You can easily disable access to Siri from your phone's lock screen. To do so, open the Settings app and tap General. Scroll down and tap Passcode Lock, then set the Siri toggle to "off." You'll still be able to use Siri when your phone is unlocked, but she'll be inaccessible without your passcode.
The fingerprint bypass bug
The bug: New iPhone 5S devices have a built-in fingerprint authenticator that eliminates the need for passcodes. A group of German hackers found a way to photograph an owner's fingerprint and create a latex fingerprint replica that can unlock your device.
Should you be worried: Unless you're involved in a complex international spy ring, the odds of someone going through the trouble of making a latex copy of your fingerprint are next to nil. After all, the process takes a lot of work, technical knowledge and time – likely more effort than breaking into the average phone is worth.
How to fix it: If the information on your device is ultrasensitive, then you should already know that fingerprint technology isn't enough to keep your data on lockdown. Use a password instead (Settings -> General -> Passcode Lock -> toggle Simple Passcode off), and consider setting the Erase Data toggle to "on." That will automatically erase all data on your phone after 10 failed entry attempts.