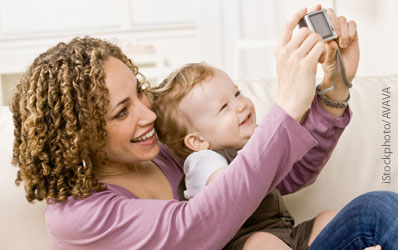 My son's first steps, my daughter holding my younger son on the day he was born—as a parent, these pictures of my kids are priceless and irreplaceable. That's why it's so important to back them up.
I've heard from many people, including friends and family, who say that they use external hard drives to back up photos because they're afraid pictures of their kids could get out onto the Internet or that their cloud service might lose their photos.
It's easy to see where these concerns originate — it seems like every couple of weeks we hear about some big company or service being hacked. Sony Entertainment Network, Zappos, even Symantec, which makes the Norton Antivirus software, have been the victim of hackers. And Internet giants, like Microsoft Hotmail and Amazon, have experienced service outages and data loss.
But most people's family photos are safer when stored online. First and foremost, the files are encrypted on most major cloud storage sites using the same level of security banks use for online transactions, both during transport from your computer to your cloud service and as they sit on your service's servers. And, unless you are a celebrity, your family photos are only valuable to you. Hackers go after corporations and other targets in hopes of monetary gain, for notoriety or for political reasons. Frankly, most of our photos aren't worth a hacker's time and effort.
As far as data loss, cloud services are far more reliable backup solutions than external hard drives. Yes, in rare instances cloud-based services have lost data, but external hard drives can fail, too. What's more important is not whether your backup solution can fail, but when it will fail. An external hard drive is far more likely to fail at the same time as your computer — whether from fire, flood or theft — resulting in total loss of all your precious photos. If a cloud service fails, you still have the original photos on your PC.
So where should you back up your photos online? If privacy isn't a concern, the logical place for some might be Facebook. You'll be losing image quality if you go that route. Facebook will only store up to 4MP files, which is far below the original files size generated by most digital cameras and even cell phones today. Plus, back up won't be automated.
You might also consider a commercial photo service, like Shutterfly. Just keep in mind that some services require an annual purchase to continue storing your photos (Shutterfly doesn't), your photos won't be encrypted and the backup process won't be automated.
I prefer to use a cloud storage service, which automatically backs up my files. The best services encrypt your data during transport as well as while stored on the service; have apps for accessing data on mobile devices, so you have access to all your photos on the go; work with Macs and Windows PCs; and are easy to set up and use.
Google Drive and Microsoft SkyDrive provide automatic sync and are good, low-cost options. In the end, though, I selected CrashPlan+ for its unlimited backup and SugarSync for its flexibility in syncing files stored anywhere on your computer.
This back-up service is a great deal for those who have a lot of photos and video. For $49.99 per year, you get unlimited backup for one computer. With CrashPlan+ Family at $119.99 per year, you can backup two to ten computers. You can specify where files are backed up—to the CrashPlan server, to a family member's computer or to other computers on your network—and how often. You can set backup intervals from once a day to real time. There are apps for Android, iOS and Windows Phone devices to access your files on the go.
If you're looking to synchronize your files across multiple computers and create a backup, you'll want to go with SugarSync. With this service, you can make a change in a file on any computer you have on your account and those changes will be automatically made to all of the other computers you have synced. If you need to view a previous version of a file, SugarSync stores the last five, with only the latest version counting toward your storage limit.
You can share folders or files with other people as read-only or with full access, which makes it great for sharing pictures and albums with family and friends. You can also access all your files with Android, BlackBerry, iOS and Windows Phone apps.
You can get a free 5GB account. Paid accounts start at 30GB for $49.99 per year for one user.