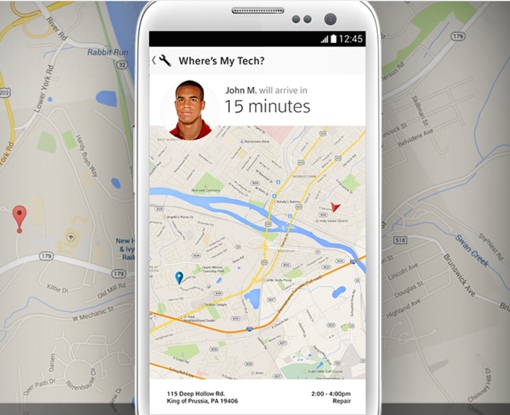 Waiting around for the cable guy can be a nightmare. Many cable providers offer "appointments" in wide-ranging time windows, forcing you to waste half your day. Even smaller windows cause you to give up your valuable free time, which is frustrating when the problem we're experiencing with our service is often on the cable company's end.
Thankfully, these nasty waits could soon be a thing of the past, at least for Comcast cable customers. This week, the company is launching a trial of its new MyAccount app in the Boston area. The free iOS and Android app offers notifications when your technician is on his way, and will alert you when he's running late.
"Customers with scheduled appointments will be alerted through our App when our technician is about 30 minutes away from arriving at their house, and will be able to track this technician's progress on a map," the company explains on its Comcast Voice blog. "We're hoping this will prevent our customers from just needing to sit at home and wait. They can check the app from the office, or wherever they are, and head home when they see we're on our way. If we are running late, which can happen if our tech gets tied up at someone else's house, we will let folks know that too, and provide real-time status updates so they can plan accordingly."
The new app – if it works as promised – represents a rare customer service victory for the overgrown cable giant. Recently, the company has been getting a massive amount of bad press for its overly aggressive agents (who are simply following company orders to constantly up-sell you from higher ups) and its efforts to force broadband data caps on its subscribers. Customer service is a huge weak point for the company. It's nice seeing the company address one of its many problems, even if other, even larger problems exist.