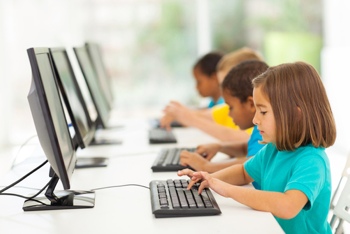 Both Google and Microsoft have committed to providing ad-free, data-collection-free versions of their search available to schools, protecting American teens and grade schoolers from the estimated 15 billion search ads presented in schools every year.
Last week, Microsoft announced the official launch of its Bing in the Classroom program. The school-specific search platform does not serve ads, nor does it create advertising profiles for its users.
"We created Bing in the Classroom because we believe students deserve a search environment tailored for learning," says Bing in the Classroom creator Matt Wallaert. "Classrooms should be ad-free, safe, and private, and that should be as true online as it is offline."
Google responded yesterday by making pro-privacy changes to its own classroom search service, Google Apps for Education. The service is no longer capable of serving ads, nor will it collect or use student data for advertising purposes, as had previously been the case. (Ads are being removed for Google's business and government customers, as well.)
"Today more than 30 million students, teachers and administrators globally rely on Google Apps for Education," stated Google for Education Director Bram Bout on the Google Enterprise blog. "We know that trust is earned through protecting their privacy and providing the best security measures."
The privacy of minors has become a major point of contention lately amongst Internet giants and parents alike. Facebook came under major fire last year for sticking by a change in its Data Use Policy allowing the company to use teenagers and their photos in ads. The State of California, meanwhile, fought back against the anti-privacy creep by passing an eraser bill that lets minors delete all content they've shared or uploaded online.
While Google and Microsoft's commitment to protecting kids in school is a great step, it's up to you as a parent to protect your kids' digital lives once they step off a school bus. If you need help getting started, check out these 7 things every child must know before they go online.
[School kids using computers via Shutterstock]