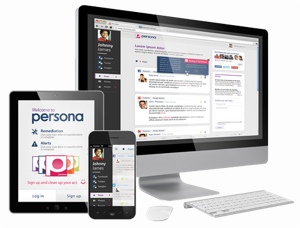 We already know that we should be careful with what we post on social media sites like Facebook – the wrong post can get you fired at work or get your kids denied admission to college. But in the past, we were a bit more naïve and risqué with our social media use. Who knew Facebook would wind up getting so big and so public?
Thankfully, there's no need for our social media past to sink our professional futures. A new service called Persona can scan your entire social media posting history for long-buried (but still public!) content that might cause you trouble in a job search or other endeavor.
Signing up for Persona is quick and largely effortless, though you will need to grant it unfettered access to your accounts to work properly. Any comment it finds containing profanity, adult content, drug/alcohol references, racism, sexism or violent overtones will be flagged for your review. Persona even scans for potentially embarrassing Facebook Likes and content other people posted to your profile.
A basic level Persona account is free (for a limited time, the site warns), and includes real-time alerts via e-mail or SMS and unlimited post, link, and Like scanning. An upgrade to Persona Pro is available for $19.99 per year, which throws image scanning into the mix.
To learn more about Persona, visit the company's website at persona-co.com. You can also check out the company's promotional video below and these additional tools for protecting your online reputation.