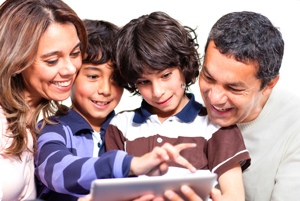 How concerned are you about your kids safety when it comes to the Internet? According to a collaborative study between Northwestern University and Microsoft Research, the answer to that question may very well depend on your politics, your yearly income and other demographic factors.
In the study, researchers surveyed over 1,000 U.S. parents and guardians of children aged 10 to 14 about potential scenarios their child could find themselves in online. Specifically, parents were asked to rank their concerns about their kids meeting up with strangers, adult content, violent content, being a victim of cyber bullying and perpetrating cyber bullying on a scale of 1 to 5, where 5 represented the highest level of concern.
Naturally, parents agreed that their biggest fear was of their child meeting a stranger who means to do them harm – that scenario scored an average of 4.3. Exposure to pornography was the second biggest fear (4.2), followed by exposure to violence (3.7), being a victim of bullying (3.5) and bullying another child online (2.4). But researchers found that parents' level of concern varied widely based on factors such as the parent's political leanings and race.
"Policies that aim to protect children online talk about parents' concerns, assuming parents are this one homogenous group," said Eszter Hargittai, Delaney Family Professor in the department of Communications Studies at Northwestern University. "When you take a close look at demographic backgrounds of parents, concerns are not uniform across population groups."
Hargittai found that conservative parents are far more concerned about protecting kids from online pornography than their liberal counterparts. Liberal parents, meanwhile, are more concerned about their child becoming an online bully. More affluent parents feel safer with regard to online safety issues than poorer parents. Similarly, white parents reported lower levels of concern about online danger, especially compared to Hispanic and Asian parents.
Of course, regardless of race, ethnicity, politics and other demographic factors, everyone wants their children to be protected while surfing the net. To help protect your family, check out these 4 ways to keep kids safe online. Then read Suzanne Kantra's great column about when (and how) to talk to your kids about online safety. For more on the joint Northwestern/Microsoft study, visit the Northwestern University website and check out the full study.
[Family with tablet via Shutterstock]