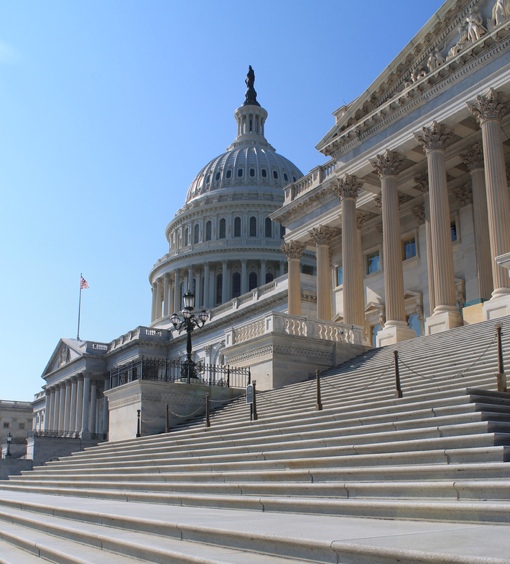 The U.S. House of Representatives passed a bill on Thursday to put curbs on the federal government's ability to conduct mass surveillance, though a number of its supporters lament that the bill is significantly watered down from the original draft.
The USA FREEDOM Act (H.R. 3361) would end the bulk collection of phone records and require the feds to obtain court permission before accessing them. The bill would not only protect private communications, but similarly restrict access to other records, like medical data or firearms records. Still, the legislation contains loopholes that still allow the government to collect massive amounts of data without a warrant, and prevents tech companies from being as forthcoming as they'd like about government data requests.
The bill sailed through the House with rare bipartisan support, 303-121. President Obama supports the bill and has indicated he will sign it if it passes the Senate.
"The USA FREEDOM Act makes clear that the government cannot indiscriminately acquire Americans' call detail records and creates a new, narrowly-tailored process for the collection of these records," said Rep. Bob Goodlatte (R-VA), chair of the House Judiciary Committee and supporter of the bill.
Other supporters were more cautious with their praise.
"Certainly, the bill can be improved," said Rep. Adam Schiff (D-CA), a Democrat closely aligned with President Obama. "I think it was a good compromise between the judicial and intelligence committees."
But was the bill really a good compromise that protects Americans' privacy? Rep. Justin Amash (R-MI), one of the bill's original authors, wound up voting against the end version. He explained his opposition in a post on Facebook.
"This morning's bill maintains and codifies a large-scale, unconstitutional domestic spying program. It claims to end 'bulk collection' of Americans' data only in a very technical sense: The bill prohibits the government from, for example, ordering a telephone company to turn over all its call records every day. But the bill was so weakened in behind-the-scenes negotiations over the last week that the government still can order—without probable cause—a telephone company to turn over all call records for 'area code 616' or for 'phone calls made east of the Mississippi.' The bill green-lights the government's massive data collection activities that sweep up Americans' records in violation of the Fourth Amendment."
You can track the continued progress of the USA FREEDOM Act, including the text of the bill and changes made, at congress.gov. For more analysis and opinion, check out Politico's, the Wall Street Journal's and The Guardian's coverage of the vote.
[Capitol building via Shutterstock]