We may earn commissions when you buy from links on our site. Why you can trust us.

Review of the Apple iPad Air 2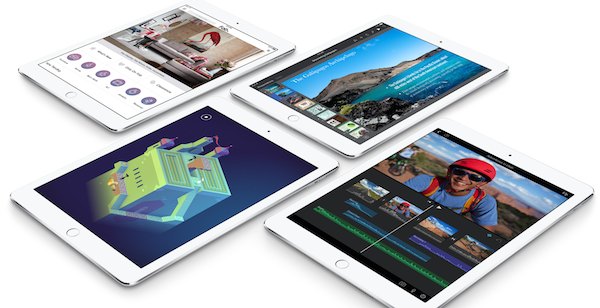 If you own the Apple iPad Air, stop reading. You have infinitesimal reasons to even considering upgrading to its successor, the iPad Air 2.
However, if you own any previous non-Air Apple iPad, the opposite is true – keep reading, because you have every reason to upgrade. You've held on to your old iPad long enough.
Why is now the time to upgrade?
Yes, the iPad Air 2, with its state-of-the-art A8X processor and M8 motion processor, performs iPad's on-screen and orientation tasks far faster than its predecessors; the older your iPad, the faster the the Air 2 comparatively acts. Yes, its 8 MP camera is almost the same excellent imager found in the iPhone 6 (but not the Plus). And, yes, Air 2 adds Apple's TouchID fingerprint sensor to make it as easy to get into the new iPad as it is to unlock any iPhone since the 5s and makes the Air 2 Apple Pay compatible, handy less for point-of-sale purchases than online buys made on the Air.
All nice reasons to upgrade but, admittedly, not exactly super compelling.
What is compelling is Air 2's size, or lack thereof.
Air 2's shrinkage is insane – it's the thinnest and nearly the lightest full-sized tablet available, even though it's all metal. Air 2 may feel as slight as its name implies, but it certainly doesn't feel cheap.
What if you're an Android tablet owner? Working against Air 2, despite its superior performance and aesthetic attributes, is its price – $499 for the 16 GB Wi-Fi-only version, more than twice the price as many quite capable (albeit cheap-feeling plastic) 10-inch Android slabs.
Buying an Air 2, then, becomes largely an economic "should I splurge?" question. In all events, Air 2 is one thing that is thin, beautiful and smart that you'll not only drool over but won't be jealous of.

Design
If you've been lugging your suddenly and comparatively porcine iPad all over creation, you'll be shocked at the Air 2's anorexic unibody aluminum ergonomics.
At .24 inches/6.1mm thick, around a third thinner than the iPad 3 and even thinner than the original Air (.29 inches/7.5mm), Air 2 is as thin as a piece of corrugated cardboard – that's not an exaggeration, as you can see from the photo. It's hard to figure out how Apple managed to squeeze Air 2's screen, circuitry and battery into such a wafer-thin yet sturdy enclosure.
While a hair shorter than older non-Air iPads such as the iPad 3 (9.4 inches/240mm vs. 9.5 inches/241.2mm), Air 2 cuts three-quarters of an inch off iPad 3's width.
The most wonderful aspect of Air 2's trimming is its weight, or lack thereof. Both versions (Wi-Fi only and Wi-Fi/cellular) weigh in at less than a pound, (.96/.98 lbs. or 437/440 grams), a third less than the nearly pound-and-a-half iPad 3 (652/662 grams), and even lighter than the original airy Air (469/478 grams).
Air 2 isn't only trimmer, it's had one of them fancy cosmetic makeovers. It still comes with either a white of black front bezel, but Air 2's rear now comes in the luxurious gold, silver and space gray options as iPhone does rather than plain slate gray of the first generation Air and all previous iPads.
Air 2 is so slim and trim and beautiful, covering and thickening it up with a case is akin to draping Kate Moss in a rubber muumuu.
There is one minor button change: there's no more mute/orientation lock. Both can be adjusted from a slide-up tray of options on the iOS 8 Home screen. This leaves just three exterior buttons – volume up/down and the on/off/sleep button up top, all in their previous iPad positions, adding to Air 2's sleekness.
Unfortunately, Apple still refuses to put speakers on either side of the iPad to supply real two-sided stereo, continuing its single-sided speakers, arrayed on either side of the Lightning charging jack.
Specs/Performance
As noted, Air 2 is powered by Apple's power-efficient 3-billion transistor A8X 64-bit chip, a special tablet version of the company's own A8 chip used in the two iPhone 6s, and the performance improvements are considerable. Air 2 is arguably more powerful than any tablet, and its processing power is beginning to rival that of a desktop PC.
In practical terms, apps initially boot and close around a half to a full second faster on Air 2 than iPad 3, and were anywhere from four to eight seconds faster, depending on their complexity, in reaching full functionality. Video apps such as YouTube and Netflix not only reached their states of readiness quicker, but videos loaded and booted around four seconds faster on the Air 2. Many more resource intensive apps such as Scrabble and YouTube were ready to use a shocking eight seconds sooner than on the iPad 3.
All operations performed similarly zippier on the Air 2 than the iPad 3. For instance, I had 21 apps to update on the Air 2 vs. 15 on the iPad 3, including several dense Apple iWorks apps. Even though I started the update process on the iPad 3 first, the Air 2 completed its more voluminous app updating 30 seconds ahead.
Apple also has finally added 802.11ac "gigabit" Wi-Fi, which speeds up all wireless chores, assuming you have an AC router.
All-in-all, you'll be able to do a lot more in a lot less time with a lot less waiting with the Air 2 than on older iPads.
While Apple hasn't upgraded its Retina 2048 x 1536-pixel, 264 ppi display in years, the Air 2 boasts a new reflectance level of just 2.5 percent, the lowest Raymond Soneira of DisplayMate Technologies has measured on a tablet by quite a margin. Apple claims the new screen reduces glare reflectivity by 56 percent compared to the original Air, which makes it easier to view in direct sunlight – it now looks like you're viewing the screen through sunglasses. The Air 2 screen also seemed brighter than my iPad 3 at the same brightness level, but that may be from the older iPad's display naturally fading over time.

Camera
Air 2 uses an iSight camera similar to the one in the iPhone 6 – 8 MP, an upgrade from the 5MP on the original Air. To compensate for the still disappointing lack of flash, the Air 2's imager sports a slightly wider f2.4 aperture compared to the f2.2 on the iPhone 6. On Air 2's front is the same 1.2 MP/f2.2/720p video Facetime camera as the original Air.
The upgrade in iSight camera resolution results in slightly sharper photos, especially noticeable on indoor shots, the Achilles Heel of all smartphone and tablet imagers. As you can see in the blow-ups, details are more distinct on the Air 2 compared to the iPad 3, especially when you zoom in. Colors are also truer and lighting more evenly-applied in shots from the Air 2. But the Air 2 still doesn't capture as much light, so indoor shots are still dark.
On the video side, Air 2 captures the same 1080p footage as the original Air, but indoor videos looked a little darker than indoor videos shot with the iPad 3. And much to my additional dismay, Apple didn't include the optical image stabilization (OIS) it added to the iPhone 6 Plus. While it's likely you'll be able to hold the Air 2 more firmly than an iPhone when shooting video to keep hand jitters down, leaving off OIS – as well as not including a flash – on such an expensive device just seems cheap to me.
But Air 2 includes 120 fps slo-mo, which pre-Air laptops lack.
Battery
The good news about Air 2's battery is not added longevity, although I got nearly two hours more life from it than I did from the overused cell in my overused iPad 3; Air 2 retained 17 percent of life after the iPad 3 was down to 1 percent.
To get a high-capacity battery into such a flat enclosure, Apple has shrunk its power cell's output from 42.5-watt-hours in the iPad 3 and 32.4-watt-hours in the original Air to 27.3-watt-hours in the Air 2. But because Apple designs all its component to work together, it manages to squeeze a lot more juice from less capacious cells on its mobile devices than Android device makers.
All this means that even though Air 2 has a smaller, less powerful battery than in any previous iPad, you still get 10 hours of video viewing.
More importantly, perhaps, is that Air's lower watt-hours means it charges around a third faster than the iPad 3.
Availability/Price
Like the first Air, Air 2 is available in both Wi-Fi-only versions and Wi-Fi+Cellular from all four major carriers. But Air 2 comes equipped with a multi-carrier SIM card that let's you sign up for "short-term" service from AT&T, Sprint or T-Mobile right out of the box.
"Short term," as far as I can tell, means temporary. I couldn't get my Air 2 connected to my existing T-Mobile account. I ended up going to a T-Mobile store and getting a T-Mobile-specific SIM installed. The multi-vendor card may be better suited to new sign-ups than for those with existing cellular accounts to which they want to add the Air 2.
As noted, Air 2 is expensive – $499/16 GB ($499 on Amazon), $599/64 GB, $799/128 GB ($753 on Amazon); add $30 for the cellular versions – far pricier so than most Android tablets. For instance, the new HTC Nexus 9 (with a slightly smaller 8.9-inch display), one of the few tablets as powerful as the Air 2, is now selling for a mere $199.
But high-end Android users aren't the prime customers for the Air. For current iPad owners, there's a brisk market in which to sell your used tablet that can help off-set the price of the Air 2.
Conclusion
What's not to like, other than the price, the lack of a photo flash, no optical image stabilization and the lack of true stereo speakers on either side of the screen? Air 2 is the thinnest, almost lightest full-size tablet available, which makes it far more convenient to tote, is far prettier than any tablet, and is far more powerful than any other tablet with a better-than-average camera and working TouchID fingerprint sensor. For current non-Air iPad owners, you finally have good reasons to upgrade.
---
Discussion