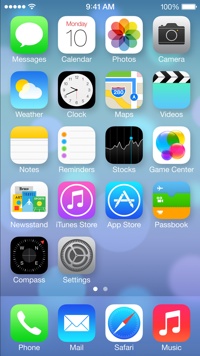 Apple's latest operating system, iOS 7, is finally here. If you own an iPhone 4, 4S or 5; any iPad other than the original (2010) or the most recent iPod touch, your device is eligible for a free upgrade. Older devices can't download iOS 7, but their installed apps can now be updated to their latest compatible versions.
Back up your phone
Before you attempt any upgrade, you should always backup your device in case anything goes wrong. Start by connecting to an available WiFi network, then tap Settings. Choose iCloud, then scroll to the bottom of the screen and choose Storage & Backup. Tap Back Up Now, and your phone will back itself up to the cloud.
If you don't have iCloud enabled on your device, you'll need to back up using iTunes. Connect your device to your computer and select it in iTunes under the Devices menu. Go to your device's page, then choose Back Up Now. Once your device has finished backing up, you can click Check for Update on the same page. If iOS 7 is available for your iPhone, iPad or iPod touch, you'll be able to click the Download and Update button.
Upgrade wirelessly
You can also update your phone without connecting it to a computer. Connect your device to a power source and an available WiFi network. Tap Settings, and then choose the General option. In this new menu, choose Software Update. Your device will tell you what version of iOS you currently have installed and whether there's an update currently available. If iOS 7 is available, you'll be able to tap Download. When the download has completed, you'll need to finish the process by tapping Install.
Be warned that the update is likely to be quite large and could take a while to download completely. Also note that some of your apps may not work with iOS 7 until their updates are approved by Apple. Have patience and enjoy your shiny new operating system!