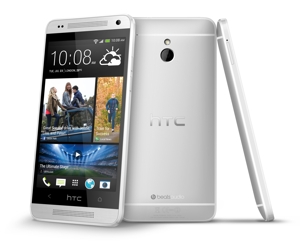 If you're a fan of Saved by the Bell, you no doubt remember Zack Morris's giant brick cell phone. His Motorola DynaTAC was a true status symbol – a 10-inch-high behemoth (not counting the ugly rubber antenna) that retailed for $3,995. It sure was big, but in the greed-is-good 1980s, a cellphone was meant to be arrogantly shown off while walking down Wall Street or cruising with your top down through Beverly Hills.
Big smartphones have been a recent trend too. Samsung started the large-phone revolution in 2011 with its 5.3-inch Galaxy Note. It later upped the ante with the 5.5-inch Galaxy Note II and the even bigger 6.3-inch Galaxy Mega.
But after years of increasingly bigger phones, are we finally ready to embrace a "smaller is the new big" attitude? That's precisely what HTC is betting with its new HTC One mini, a smaller, 4.3-inch version of its popular 4.7-inch HTC One smartphone.
Most of the HTC One mini's stats represent a slight downgrade from the larger, more-powerful HTC One. The mini comes with a slower 1.4GHz Snapdragon 400 processor, half the RAM of the One (only 1GB) and a less-powerful 1,800 mAh battery. The phone also boasts a 4-megapixel camera and 16GB of non-expandable internal memory.
Essentially, the One mini is just a bargain version of the flagship HTC One with a little bit of added marketing spin. Given that the latter sells for $199 with a new two-year contract, you can reasonably expect the mini to clock in about $100 cheaper.
Are smaller phones the future? That seems likely, at least in the sense that device manufacturers are betting big on smaller, less-expensive devices. Samsung recently unveiled its Galaxy S4 Mini, a pared-down version of its wildly popular (and breakable) Samsung Galaxy S4 smartphone. And Apple is expected to release a multi-colored, lower-cost version of the iPhone 5S in the fall. Given that phone carriers seem to be pushing customers away from two-year contracts – and the giant phone subsidies that come with said contracts – it may be a smart bet indeed.
The HTC One mini will be available "in select markets" in August, followed by a global rollout in September. For more on the HTC One mini, visit the HTC website.