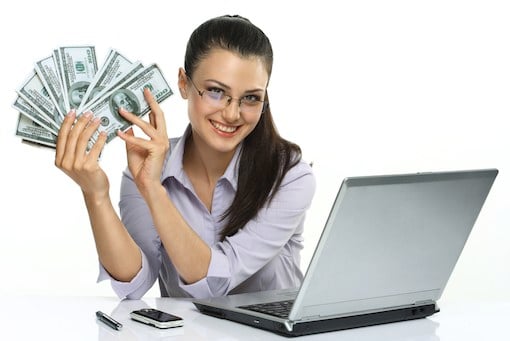 Saving money is gratifying—plain and simple. And technology can make lining your pockets even easier.
These 5 apps and websites help you put more dollars where they belong: in your wallet or bank account.
Find the Best Price: InvisibleHand
This free browser extension for Firefox, Chrome, and Safari tells you if the flight, hotel, rental car, or product you're looking at is available for less money on another site. When the tool finds a cheaper deal, it shows you a narrow yellow band at the top of the screen with a drop-down list of competing prices.
For instance, in this screenshot from Amazon, InvisibleHand found the same new TV on eBay for less money—and with free shipping. The service also includes a feature that will alert you to any available coupons for wherever you happen to be shopping.
Also appreciated: You'll never see InvisibleHand unless it's working.
Price: Free at getinvisiblehand.com
Save On In-Home Health Care: CareLinx
Hiring in-home care for a loved one can be expensive, so this online marketplace promises to save families up to 50% over traditional agencies. It connects you directly with nursing assistants, medical assistants, nurses, and the like.
The service charges a 15% fee, which covers the cost of time tracking, secure online ACH payment processing, payroll tax services, and a dedicated family advisor that helps families navigate the process of hiring a caregiver. The company also runs background checks on caregivers and provides professional liability insurance that covers property damage and injuries.
Price: Hourly wages plus a 15% service fee; available at carelinx.com
Get Free Off-Airport Parking: FlightCar
If you live in Los Angeles, Boston, or San Francisco, the FlightCar service will let you park for free in a special lot—and earn you some extra cash while you're away.
FlightCar rents out your car to other vetted FlightCar members while you're away. Your take is anywhere from $0.05 to $0.40 per mile, depending on the make and year of your car and how many miles a renter drives it. Included with the service: A free car wash, $1 million in insurance, and a black-car chauffeur to the airport.
If you're traveling to any other FlightCar city, a web app will text you information about nearby cars available for rental. The service will be expanding to Seattle next, with other cities to follow.
Price: Free, with the opportunity to make money while you travel; available at flightcar.com
Get Free Stuff: Yerdle
This iOS app and website is a store where people barter for free using virtual currency. If you have stuff lying around the house that you don't use or no longer enjoy, you can offer it on the site for a certain number of "credits"—everyone gets 250 to start. A coffee mug typically goes for around 25 credits, while a Patagonia jacket might run around 650.
It's similar to eBay in that you can set it up as an auction or set a price for buyers to "get it now." Once someone accepts your offer, Yerdle sets you up with a UPS label. Credits will appear in your account as soon as you drop the package off at a UPS store. Shipping payments are facilitated through Amazon Payments.
Price: Free, except for shipping in the event you can't do local pickup.
Reduce Your Interest Rates: Credit Karma
People with high credit scores get lower interest rates on their loans and credit cards, but boosting your score takes time and know-how. Credit Karma is a free web-based service that gives you insight into your TransUnion credit score, the factors that affect it, and tips on how to improve it.
If you have a low score, for example, it will suggest products that can help raise your score, such as low-limit credit cards that will increase your limit as a reward for a good payment history. You can also connect your bank and credit card accounts to track your spending.
The platform includes several helpful calculators, such as one to help you determine if you can afford a home and one that figures out how long it will take to repay a debt. Companion apps are available for iOS and Android.
Price: Free at creditkarma.com
[woman with money at computer via Shutterstock]