Updated on 11/16/2023 with the latest Facebook instructions and new screenshots.
Hiding your Friends list on Facebook makes a lot of sense both to protect your privacy, as well as prevent account cloning. The privacy benefits are pretty self-explanatory – whether it's a nosy acquaintance or a controlling ex, who you are or are not friends with on Facebook is none of their business.
What many people may not realize is that by keeping your Friends list public, you're also putting your friends at risk for account cloning scams. The scam only works when the person behind it can contact your friends pretending to be you to request money or to send phishing messages, such as the classic "Is this you?" video scam. If your Friends list is private, the scam won't work.
If you've ever seen a post from a Facebook friend saying, "Don't accept friend requests from me, I've been hacked!", the likelihood is that they have actually been cloned, not hacked, and it's because their Friends list was public. You don't want to be that person.
While hiding your friends on Facebook is easy to do (and I'll walk you through it below), it isn't completely foolproof. Others can still see "mutual friends" on your profile, though not the rest of your Friends list. And if your friend has a public Friends list, others will be able to see your connection to them in their list.
The first step to protect your privacy is selecting who can see your Friends list. My recommendation is to set it to "Friends only," though for maximum privacy, set it to "Only me." The process is similar whether you're accessing Facebook on a web browser or using the app.
Configure your Facebook Friends list from your computer
To configure your Friends list from your computer browser, follow these steps:
Go to Facebook from your web browser.
Click your profile picture (upper right) and select Settings & privacy.
Select Settings.
Scroll down the left navigation to the Audience and visibility section and select How people find and contact you.
In the main window, find Who can see your friends list? and click the button next to your current selection.
In the pop-up menu, select who you would like to be able to see your Friends list. If you make a change, click on the Save button.
Click Done on the right to save your settings.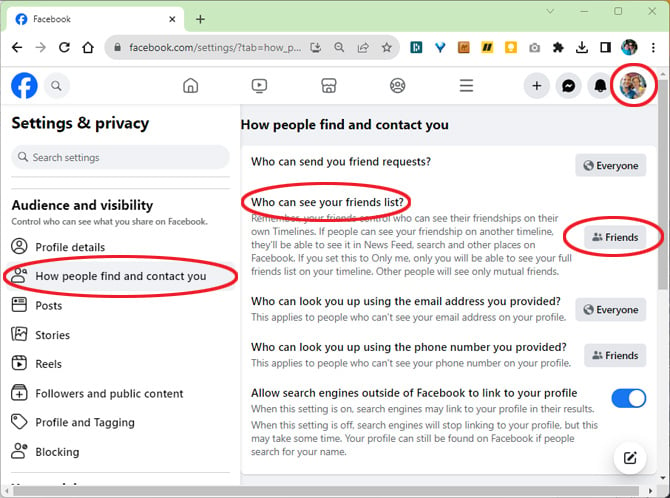 Configure your Facebook Friends list in the Facebook app on your phone or tablet
Setup on mobile is almost identical to the browser settings, the only difference is that the browser lets you create custom lists, whereas the mobile app only allows you to select existing custom lists. This likely won't matter for most people.
Here's how to change the visibility of your Friends list from the Facebook app on your phone or tablet:
Open the Facebook app.
Tap the menu icon (your profile picture with three horizontal lines).
Tap Settings & privacy and then Settings.
Under Audience and visibility, tap How people find and contact you.
Tap the current selection next to Who can see your friends list? to view all the options.
In the pop-up menu, select who you would like to be able to see your Friends list. If you make a change to Friends Except or Specific Friends, tap Done.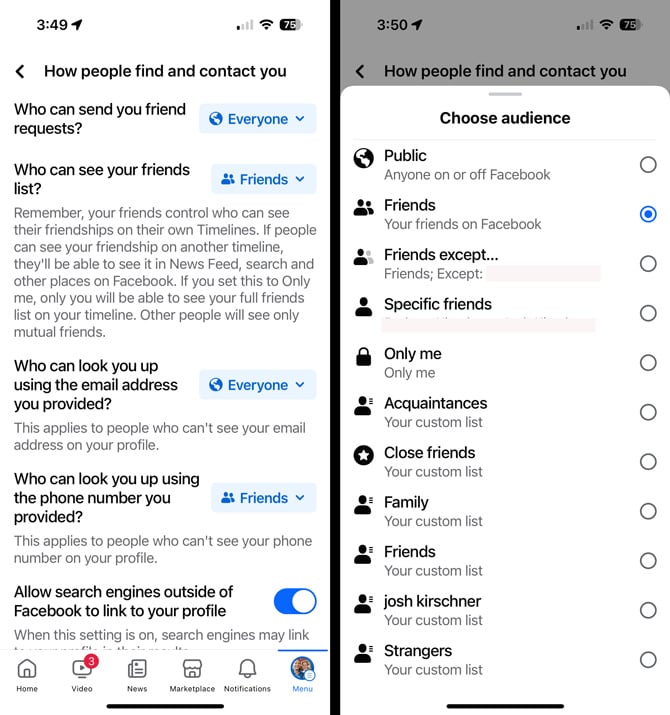 Final steps to maximize your Facebook privacy
When you're done adjusting your own settings, encourage your friends to adjust their privacy settings, too. Otherwise, you could still get sucked into a cloned account scam based on their Facebook profile.
It's also a smart idea to regularly review all of your Facebook privacy settings, as Facebook regularly tweaks the options, and you may find your privacy needs changing over time.
[Image credit: Screenshots via Techlicious, Canva]
Elizabeth Harper is a writer and editor with more than a decade of experience covering consumer technology and entertainment. In addition to writing for Techlicious, she's Editorial Director of Blizzard Watch and is published on sites all over the web including Time, CBS, Engadget, The Daily Dot and DealNews.