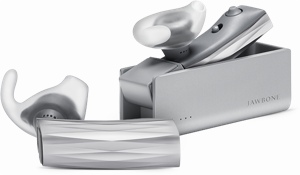 If you've been avoiding Bluetooth phone headsets because they're bulky and offer low sound quality, it's time for a reality check. The quality and compatibility of these devices continues to improve year after year. Case in point: Today, Jawbone introduced the latest iteration of the ERA headset, which the company is touting as "its simplest, subtlest, and most-natural sounding Bluetooth headset yet."
One major selling point of the new ERA is its reduced weight – this new model is 42% lighter than Jawbone's older ERA Bluetooth headset. That's important, especially if you spend a lot of time in your car on lengthy commutes. More importantly though, Jawbone has also made improvements in speech recognition and noise reduction, making for clearer, more audible calls. The headset is good for 4 hours of talk, which you can double via the (shown, optional) charging carrying case.
If you're not familiar with the ERA's design, it's worth noting that you won't need to fumble around with your smartphone to use it once paired. By pressing a button on the back of the headset, you can activate Siri or Google Now to place a call, send a text, get directions or find out what the weather is going to be like tomorrow.
Remember, in most states, it's illegal to be hands-on with your phone while driving. And even if using your phone while driving is legal where you are, study after study has shown that it's still really dangerous. Your next new car will likely have Bluetooth built-in, but to help you bridge that gap, you should strongly consider using a hands-free device like the Jawbone ERA in the meantime.
The Jawbone ERA is currently available for purchase in black, silver, bronze and red at the Jawbone website and in black at Verizon stores. The device will be available in Apple, AT&T and Best Buy stores starting January 24. Pricing starts at $99.99 for just the headset, or $129.99 with charging case included. For more information, visit the Jawbone website.