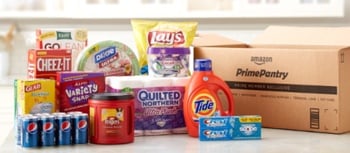 Having trouble finding time in your busy day for a visit to the supermarket? On Wednesday, Internet e-tail giant Amazon launched its new nationwide Amazon Prime Pantry grocery service that promises to deliver up to 45 pounds of "everyday essentials at everyday prices" for a flat $5.99 shipping fee.
Amazon Prime Pantry allows you to purchase your family's favorite brands of food and household supplies in normal supermarket sizes, from boxes of Cheerios to Quilted Northern toilet tissue. Prices are competitive – and often lower – than what you'd expect from a supermarket, and some products even have coupon offers redeemable on their product page. A 12 pack of 12 oz. Coke cans, for example, will cost you $3.24 (after a 75 cent clickable coupon) on Amazon Prime Pantry; the same purchase runs $6.59 using my local supermarket's delivery service (Vons).
As you add items to your order, Amazon will tell you what percentage of your Amazon Prime Pantry box each item will fill based on its size and weight, up to a maximum of 45 pounds and 4 cubic feet. For reference, a standard package of Oreo cookies would take up just 2.2% of your box; the case of Coke referenced earlier gobbles a hefty 23.2% due to its weight.
To use the new service, you'll need to be an Amazon Prime member living in the contiguous 48 states. I'm not sure this service alone is enough to merit the now $99 yearly price tag, but if you're already enjoying Prime for its two-day shipping and Amazon streaming video service, then Prime Pantry is definitely worth a look. Not only is it convenient, but it could save you money on your grocery bills too.
To learn more about the new Amazon Prime Pantry service, visit the Amazon website or watch the short promotional video below. For more ways to save money on your grocery bills, check out some of our favorite grocery coupon apps and coupon sites.