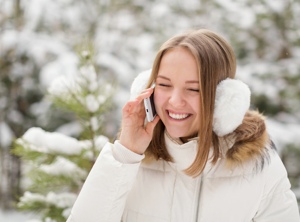 If you've been thinking about switching your cell phone service in the new year, AT&T has a deal for you. Switch, and the company will pay you some cash. For T-Mobile customers, the deal is especially sweet: AT&T is willing to pay you up to $450 to switch.
"Beginning Jan. 3, under the limited-time offer, T-Mobile customers who switch to AT&T can trade-in their current smartphone for a promotion card of up to $250, which can be used toward AT&T products and services," the company explained. "Trade-in values will vary based on make, model and age of the smartphone, but many of the latest and most popular smartphones will qualify for a value of $250. T-Mobile customers can receive an additional $200 credit per line when they transfer their wireless service to AT&T and choose an AT&T Next plan, buy a device at full retail price or activate a device they currently own."
The AT&T offer is meant to boost interest in its new no-contract Mobile Share Value plans, which offer a $15-per-month discount if you already own your device. Ultimately, you'll likely spend more for the AT&T service than with T-Mobile, but it is a higher quality network for 4G LTE data communications.
For more on the limited time AT&T offer, check out the company's promotional website. And if you're looking for a great inexpensive no-contract phone to bring for the monthly discount, check out the Moto G and Moto X, both solid phones that just had their prices slashed this week.
[Young girl in winter forest via Shutterstock]