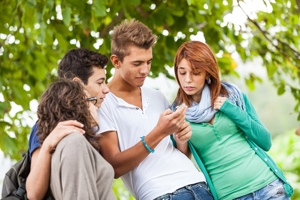 If you've got a teenager, you've no doubt noticed that they're always glued to their computer, tablet or smartphone. But have you ever wondered exactly what it was they're spending all their time doing? A new study by the Family Online Safety Institute, posted by Mashable, reveals teens' secrets, showing exactly what they do when they're online.
In the last 30 days, almost all U.S. teens have sent or received text messages (87%), played an online or mobile game (82%), sent email (81%), used a social networking site (81%) or used an instant messenger (71%). Aside from Facebook, Instagram is the most popular social network amongst teens with 42% reporting having used it as compared to the 35% of teens who used Twitter and the 32% who used the increasingly popular social network Snapchat.
One interesting find in the study: Very few teens report sharing their location or checking in (16%). This suggests that teens are becoming more knowledgeable about protecting their online privacy – a recent Pew Internet & American Life Project says that only 59% of girls and 37% of boys have disabled location tracking on their phones entirely.
For more on the study, check out the Family Online Safety Institute's infographic on Mashable.
[Teens using a smartphone via Shutterstock]