We may earn commissions when you buy from links on our site. Why you can trust us.

HTC Flyer Review: Pricey, Quirky and Strangely Appealing
HTC jumps into the tablet fray with the pricey, quirky HTC Flyer. What sets the Flyer apart from every other tablet on the market is its unique active stylus technology that lets you take handwritten notes and annotate almost anything you come across. Cool? Yes. Functional? Sometimes. Worth the extra money? Probably not.
When reviewing the HTC Flyer, I found other aspects of its design confounding. Is the HTC Flyer's 7" display the perfect size for tablet portability or too close to a smartphone display? Does the fact that the Flyer is still using the very familiar Android 2.3 help users with navigation or will it quickly become outdated?
Well, let's go through the review and see if we can figure this out.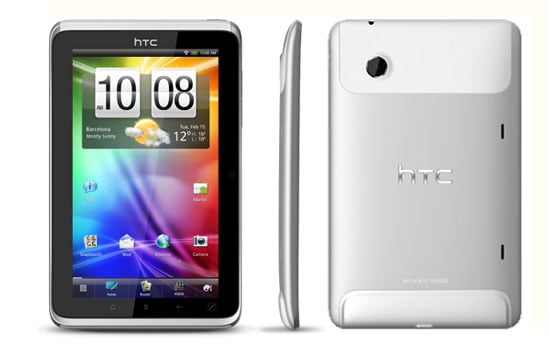 How it feels in the hand
As a device meant for portability, I'm a big fan of the HTC Flyer's 7" display. It's a much better size for squeezing into a pocket or purse than a 9.7" iPad 2 or the 10.1" Motorola Xoom, and weighs six ounces less than an iPad 2 (0.93 lbs versus 1.33 lbs). Though it is slightly heavier than the Samsung Galaxy Tab at .84 lbs.
The smaller size and weight also makes the Flyer comfortable to hold. While the brushed aluminum back is more slippery than the rubberized one on the BlackBerry PlayBook, the Flyer has a bump on the right rear side that acts as a very functional hand-grip.
The power button and volume toggles are easy to find and press.
Display & sound
The HTC Flyer's display is nice and bright, with rich colors, with sharp text and plenty of detail in images. It offers the same 1024x600 resolution as the Apple iPad 2 (since everything has to be compared to the iPad 2), even though it's only 7".
You can output video to your HDTV through DLNA or the Flyer's MHL port. MHL is a new type of port that combines standard micro USB functionality with HD video-out, and can even be used to charge the device when used with a compatible TV (of which there are none in the U.S. yet, as far as I know).
Audio from the Flyer's stereo speakers was functional, but you'll want to use your headphones when possible.
Web browsing
The HTC Flyer doesn't sport a dual-core processor like most of the tablets coming to market, but it's 1.5 GHz processor was able to render and scroll we pages quickly. The Flyer also comes with Flash, so it is able to display videos and Flash navigation, though some web videos, such as on the New York Time site, were extremely jerky.
Because the Flyer is running Android 2.3 and not Honeycomb, it will support multiple browser windows, but not true tab-based browsing.
The HTC Flyer only comes in a Wi-Fi version for the U.S., though 3G versions are available in Europe and should make their way State-side soon.
Camera and video recording
Most of the tablets I've tested have had fair-to-middling cameras. But there is something fundamentally wrong with the 5MP rear-facing camera on the Flyer. Pictures were quite soft and, bizarrely, there were areas of extreme softness that appeared around specific patterns within photos (e.g., the fire escapes on the side of the building). I've never seen anything quite like it. The camera also had trouble focusing in less than optimal light. Fortunately, the HTC Flyer features touch-to-focus. There is no flash to help out.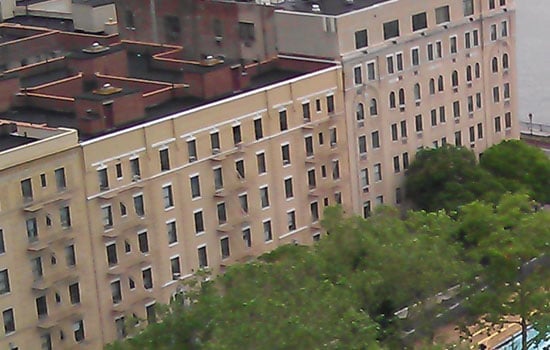 The 1.3MP front-facing camera produced very grainy images and did poorly in low light. So if you're going to video chat, plan accordingly.
Video from the Flyer was equally bad. Even at 720p, the video had no detail, and there were exposure and color issues. And, to make matters even worse, the sound was terrible—amplifying the slightest breeze into what sounded like a Nor'easter barreling down the coast.
Keyboard & Navigation
Navigation on the HTC Flyer was a bright spot. The Android 2.3 interface is familiar to anyone using an Android phone, and HTC includes a number of improvements that really add to the experience, not least of which is the active stylus. But we'll get to that in a minute.
The first thing you notice that's different with the Flyer is the lock-screen. Most Android devices require you to make some sort of swiping motion to unlock the screen, and then you can go where you need to. The HTC Flyer allows you to customize the lock-screen with your favorite apps—just drag the app's icon into a little circle and it will launch directly into the app. In addition, the application shortcut row along the bottom can also be customized.
The typical Home, Menu and Back buttons are available on two sides of the display, and will automatically switch to the correct ones based on the tablet's orientation.
HTC has taken some standard apps, such as the mail, calendar, people and gallery applications, and developed a two-panel version to take advantage of the Flyer's 7" display. With Mail, the left panel shows the list of emails, while the right panel displays the contents of the highlighted email.
The Flyer's keyboard is well spaced, and perfectly sized for thumb typing. HTC includes both predictive text and a Swype-like keyboard option, which worked well except that it does not automatically add a space after manually selecting a word.
During use, I found that apps opened quickly and screens scrolled fluidly.
The Stylus ("Magic Pen")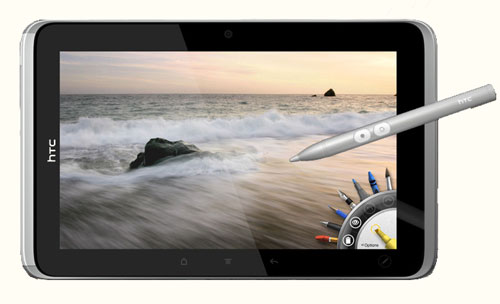 Where the HTC Flyer really stands out from every other tablet on the market is with its "Magic Pen" stylus. The stylus can be used within the Flyer's note taking application or to make notes/comment/draw on any screen, and then share these notes via email, Facebook, Twitter, Facebook, etc. You can also use the stylus for free-form sketching.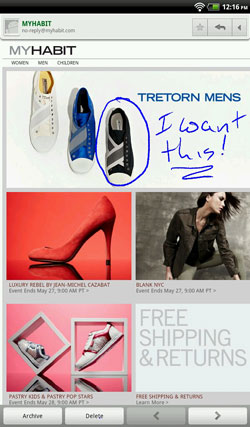 To call up the stylus features from within any application, you tap a small icon on the bottom right of the bezel with the stylus. This essentially takes a screen shot of the display and freezes the app. You are then free to annotate at will. There are a variety of pen styles, colors and sizes to choose from, and you can choose a highlighter for text or an eraser using two dedicated buttons on the stylus.
In theory, the specialized Notes application has tons of promise. You can record a lecture or meeting while taking handwritten notes using the stylus, and even add in photographs with the built-in camera. The notes are timestamped along with the audio recording so you can go back later to compare your notes with what is actually being spoken. You can sync your notes through Evernote (with the Free or Premium versions) for access across all your devices.
In practice, I found the Note app awkward and frustrating to use. The stylus, while accurate at slower speeds, struggles to capture hastily scribbled notes, as you would take in a meeting (I found it did a much better job with script than printing). And the timestamp feature only works at five minute intervals, not nearly precise enough. Products like the Livescribe Pen do a much better job with this.
Also annoying is that the stylus only works for writing, navigating must be done with your finger. So you'll find yourself constantly going back and forth between stylus and finger, stylus and finger.
Having the stylus feature for apps beyond Notes is a "nice to have" for me, but far from a necessity. I can see the occasional circumstance where it would be helpful to take notes on a web page and send them off to someone, but that convenience wouldn't outweigh the inconvenience of carrying around an $80 stylus with no where to store it on the device. If you have more use for the stylus features, perhaps that balance will be different for you.
Apps
The HTC Flyer runs the hundreds of thousands of Android apps available for smartphones, but not apps designed specifically for Honeycomb tablets.
One important new app on the Flyer is HTC Watch, HTC's own movie rental service. As of this writing, there were only 15 movies and 15 TV shows available. It will be interesting to see whether HTC continues to expand HTC Watch or if ends up being replaced by Google's movie download service.
Storage
The HTC Flyer comes with 16GB of internal memory and a microSD card slot capable of supporting up to 32GB.
Battery Life
Battery life on the HTC Flyer is very good. I've been using it off and on for a week now and there's still nearly half the battery left. But processor intensive apps and movies will take the battery down much quicker.
Pricing and availability
The HTC Flyer is priced at $499 and is available from Best Buy and other retailers. The Magic Pen stylus is an extra $80.
UPDATE 7/4/2011: Best Buy is now including the Magic Pen Stylus for no extra charge as part of a package.
Should you buy it?
The HTC Flyer is a love/hate (or maybe I should say like/dislike) device. I love the 7" size for traveling, though I prefer a 10" tablet for home use. The Flyer is also well built and very comfortable to hold.
Android 2.3 is very familiar to those of us with Android smartphones, and more stable than the somewhat buggy Android Honeycomb, but I have to ask how long that advantage will last. Google, no doubt, will quickly improve on Honeycomb, adding new features that will not be available with Android 2.3. And a year from now, you may find yourself desperately waiting for a Honeycomb upgrade on the Flyer that may never come.
Of course, the main selling point of the HTC Flyer is its Magic Pen stylus. If you need this sort of thing, it is a huge differentiator. Though not perfect, the stylus is better than anything else out there on a sub-$1000 tablet. And some of the quibbles we had with Notes application may be fixed in future updates. On the other hand, the Magic Pen is an $80 accessory that's all too easy to lose. I would be much more comfortable if it could be stored in the Flyer, but it can't. You'll need to buy a case specifically designed to store both.
And then there's the question of price. At $499, the HTC Flyer is priced the same as an iPad 2, which gives you a lot more bang for your buck, and $150 more than a roughly equivalent 7" Samsung Galaxy Tab. The Flyer has a faster processor and more RAM than the Tab, but it doesn't justify the $150 premium.
So where does that leave us? Put simply, if you really want that stylus, or a 7" tablet, and price is no object, the HTC Flyer makes sense. Otherwise, I would recommend saving some dough and going with the Samsung Galaxy Tab or spending the same for an iPad 2.
Rating: Neutral
---
Detailed Specs
OS: Android 2.3 with HTC Sense
Weight: 0.93 pounds
Dimensions: 4.8" x 7.7" x 0.52"
Display: 7" LCD (600 x 1024)
Video: 720p HD video recording
Camera: 5 MP
Front-facing camera: 1.3 MP
Processor: 1.5GHz Qualcomm processor
Memory: 1MB RAM, 16GB on-board storage and microSD slot expandable to 32GB
Wi-Fi: 802.11 b/g/n
Discussion