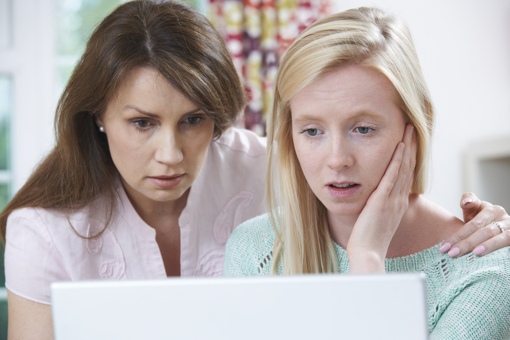 There's no question that cyberbullying is a serious problem in this country, especially in schools. It's far too easy for someone with a grudge – or someone just looking for cheap thrills at someone else's expense – to anonymously attack others online, by text, by messenger app and across every public social network. That said, a brand new Illinois law against cyberbullying may go a bit too far. According to a report by Motherboard, parents around the state are receiving letters from school officials explaining that the law may require students hand over their passwords to various Internet sites.
One such letter sent to parents with students attending C.A. Henning Elementary School in Troy, Illinois reads, "If your child has an account on a social networking website, e.g., Facebook, Instagram, Twitter, ask.fm, etc., please be aware that State law requires school authorities to notify you that your child may be asked to provide his or her password for these accounts to school officials in certain circumstances."
"School authorities may require a student or his or her parent/guardian to provide a password or other related account information in order to gain access to his/her account or profile on a social networking website if school authorities have reasonable cause to believe that a student's account on a social networking website contains evidence that a student has violated a school disciplinary rule or procedure," it adds.
The school district in question tells Motherboard that it has yet to request a password from one of its students. But it does stand by the letter, with Triad District Superintendent Leigh Lewis stating that if the school is investigating an incident involving social media, "we have the right to ask for those passwords." If a student or parent refuses, the school says that in certain circumstances it would turn matters over to the police.
According to privacy experts at the ACLU, the schools' interpretation of the Illinois law may be both unconstitutional and redundant. That's because the law already provides for actual law enforcement officials to seek access to student accounts via a search warrant. That's in addition to the fact that Facebook's Terms of Service prohibits you from sharing your password with unauthorized people, and the fact that exposing a child's entire Internet history to strangers opens up serious privacy issues.
"It's a tragic example of government overreach," says Massachusetts ACLU Director Kade Crockford. "Anytime a school is trying to control students' behavior outside school, it's a serious threat to their privacy and to their futures."
For more information on how to recognize and battle cyberbullying, check out Suzanne Kantra's classic Techlicious column "The Kids Are Online: How To Keep Them Safe," in which she discusses the subject with child psychologist Dr. Scott A. Roth.
[Concerned parent and teen via Shutterstock]