We may earn commissions when you buy from links on our site. Why you can trust us.

Review: HTC One M8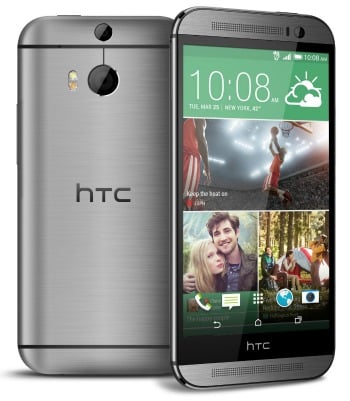 HTC has a long history of crafting excellent smartphones. The company marries well-designed hardware with software that makes Android much friendlier to use.
With the release of the HTC One last year, we saw an almost Apple-esque focus on beauty and design emerge. The 2013 One (now dubbed the One M7) is a gorgeous phone with a design deserving of the praise heaped upon it. However, the One M7's design was at fault for the One's drawbacks: no user-replaceable battery, no SD card slot and edges that bite into the hand.
These complaints are no longer an issue in the new HTC One M8. The next-generation One retains the best of last year's features, including great front-facing speakers and booming sound, while adding a microSD card slot and softening the design.
The new One M8 is so much improved that it's a real contender for today's best Android smartphone, even up against its toughest competition, the Samsung Galaxy S5.
How the One M8 feels in the hand
The HTC One M8's aluminum body has a coating that feels more comfortable to hold than the M7, while retaining the premium aesthetic of brushed metal. The curved back fits in your palm just right for larger hands (a little wide for the average woman's hand), and the edges are rounded in such a way that the laser-cut detail on the front no longer digs into your flesh.
The screen is now 5.0 inches (full HD resolution), just 0.1 inches smaller than the Samsung Galaxy S5. The 5.8" x 2.8" x 0.37" One M8 is a little longer (taller) than its Samsung competitor due to the speakers on the front. Despite that, the M8 isn't too large for one-handed use, at least in my larger hand, and balances so well I never felt in danger of dropping it.
HTC has made the power button less awkward to reach this time, though the power button isn't the only way to turn the One M8 on. You can double-tap the center of the screen (just like the LG G Flex) or gesture swipe from the edges to launch the last app, BlinkFeed or go directly to the home screen.
With the One M8, HTC has finally dropped physical buttons. Home, Back and Recent Apps are now icons on the screen, in keeping with Android's intended design. Users (like me) who prefer those buttons to be offscreen so they don't take up pixels or get in the way will find fewer and fewer phones with physical buttons. Even Samsung is starting to drop support for them.
Top-notch display and sound
The 5-inch Gorilla Glass 3 display is as good as you can ask for in a smartphone: full HD resolution, high-pixel density, wide viewing angles and rich, crisp colors on a display that's visible in sunlight. It's great for reading e-books or websites, browsing through pictures and watching video.
You'll do a lot of that thanks to the front-facing speakers. Just like last year's model, they pump out better sound than almost every other smartphone. With improved BoomSound quality, the audio is louder and rounder than the M7. For sharing video in semi-noisy environments, talking via speakerphone or using the phone as a clock radio, they're just right.
HTC upped the power on the headphone jack to better support premium headphones for improved audio quality — good news for those of you who invested in $200+ earbuds or over-ears. And for true audiophiles, HTC has a special HTC One Harman Kardon edition, which has technology to create a sense of depth and recreate missing notes in compressed sound. The Harman Kardon edition also comes with high-quality earphones.
Call quality on Verizon's network was very good. The people I spoke with reported that my voice sounded clear, without much or any background noise. Sound from the earpiece came through clearly as well and improved further with a headset.
A multimedia powerhouse
On its own, the One M8 is a tiny media powerhouse. When you're ready to kick back at home to watch TV or play music, this phone need not leave your hands.
I mean that literally. Thanks to the IR sensor embedded in the top, you can use the M8 as a remote control. The HTC TV program guide ensures you'll keep it close by making it easy to interact with fellow fans on social networks right from the app. It automatically populates a tab with official show Twitter accounts and the show hashtag, and you don't even have to leave the app to add your own posts.
If you use your smartphone as a media hub, the HTC Connect feature makes it very easy via DLNA or Bluetooth to stream audio to your speakers and A/V receivers and video or photos to TVs. One swipe shows you all the available devices ready to connect, and one tap starts the process, even for devices that weren't previously paired.
Web browsing, networking and processor power
On Verizon Wireless's 4G LTE network, I saw high speeds and experienced no lag when loading web pages, social networks and HD video. All HTC One M8 models are 4G LTE-ready, so you should experience the same whether you buy the AT&T, T-Mobile or Sprint versions (assuming that network is available).
The quad-core, 2.3GHz Qualcomm Snapdragon 801 processor is more than powerful enough to handle everything from intense games to image editing with nested data. This CPU is very efficient; it won't be a huge drain on the battery.
Improved camera and video recording
When HTC introduced the concept of UltraPixels last year, the claim was that getting better camera shots doesn't require more pixels, just bigger ones. Results were mixed. Pictures from the M7 are far better than other 4MP phone cameras but not nearly as good as pictures taken on the Samsung Galaxy S4 or the iPhone 5S.
The One M8 still has only 4 UltraPixels, but that doesn't mean it's not a better camera. Image quality is much improved in this version, possibly because of the dual cameras on the back. Two cameras allow the phone to gather more depth data about the objects in frame. Without any editing, the pictures I took with the M8 are better than all the photos I took with last year's M7. Indoors in challenging light, low light and even in the dark, I could take shots that are clear and crisp enough to share either on the screen or via social media.
Unlike pictures from the iPhone 5S and the Galaxy S4, pictures from the One M8 aren't good enough for printing. Pixilation is evident in most shots — while UltraPixels take in a lot of light, there are still only four of them.
The dual cameras make possible fun editing features such as a tool that changes the look of the background and a way to shift the focal point to anywhere in the image and add a bokeh effect. These are more a novelty than of practical use and don't add much to the camera experience.
Zoe camera mode is more useful due to its flexibility. Depending on how long you press the shutter, you can take one shot, a group of burst shots or video. Zoe also drives the One M8's gallery and slideshow feature that auto-generates a video of your photos and videos and then sets it to music with just a few taps — perfect for family vacations or special occasions. Here's an example:
I wish HTC had focused on more easy modes for people who don't know how to fiddle with manual controls. It's good that these are available, and adjustments can be saved as presets. That doesn't make up for the lack of HDR. Image stabilization is minimal; the speedy shutter makes this less of a problem when snapping still photos.
Sadly, my video footage came out shakier than I'd like. One bright spot: the microphones are excellent, so audio is well-balanced even when recording loud situations. Here is a quick video I shot that shows off both video and audio quality:
Attractive keyboard and navigation
The HTC One M8 ships with Android 4.4 KitKat and the HTC Sense 6 user interface. Sense provides attractive design and makes the Android OS a little less frustrating to use. The difference between Sense and stock Android is most evident with BlinkFeed, which pulls together news, status updates from social networks, calendar appointments and more in an attractive layout. You can set this as your default home screen, although I still find that its narrow data source choices make BlinkFeed less useful than Flipboard or My Magazine on Samsung Galaxy devices.
One other feature worth noting is a new Kids Mode that locks children into a safe area where they can play games and use only apps of your choosing.
HTC's default keyboard offers word prediction and word trace (similar to Swype) and is serviceable enough. I still prefer SwiftKey, since the prediction engine is better and you have more control over the size of keys to suit your typing style.
Keep an eye on storage
The HTC One M8 comes with a standard 32GB of storage on board. Now that there are more restrictions on the apps you can move to the SD card and have little control over where some data is stored, it's important to get a good amount of internal storage. If you use a lot of apps or play many games, your storage can fill up quickly if it's too small.
An external microSD card slot helps, since you can store media on an SD card and reserve space on the device for apps. The M8 can accept SD cards up to 128GB.
Solid battery life
The HTC One M8 easily lasted all day and well into the evening with heavy usage on LTE. That fits HTC's claim that the M8 has 40 percent longer life than the M7. This may also mean that even when the battery degrades into shorter and shorter battery life (as all of them do), you might be able to get 10 to 12 hours out of it with battery-saving measures.
The One M8 is supposed to have two battery saving modes, but neither is currently available on the Verizon model (for unknown reasons). Power Saver, which should be accessible on the T-Mobile, Sprint and AT&T models, cuts back on power hogs like the display, data connection and CPU usage to extend battery life.
Extreme power saving mode is not yet available on U.S. models but will be with a future software update. It lives up to the "extreme" in the title by only allowing "essential" apps to run, including the phone, texts, HTC's email app and the calendar and calculator. Everything else is inaccessible. With this feature turned on, you can wring out several more hours of use even when the battery is as low as 5 percent.
Pricing and availability
The HTC One M8 is available on all four major U.S. carriers as well as major retailers such as Best Buy. The big box store will be the exclusive seller of the Amber Gold color. All other stores and carriers will offer either Gunmetal Gray or Glacial Silver.
The One M8 costs $199 on a two-year contract at AT&T, Sprint, and Verizon. Expect to pay around $700 on Amazon if you want to buy it unlocked at full retail price. Or, you can pay $199.99 with a new contract for on AT&T or $149.99 on Amazon. On Sprint, you'll pay $99 with a new contract on Sprint and $149.99 on Amazon. Sprint's Harman Kardon edition is $199.99 with a new contract on Amazon or $229.99 on Sprint. You'll pay $99 on Verizon or Amazon with a new contract. And, on AT&T you'll pay $199.99 and on Amazon you'll pay $149.99 with a new contract. T-Mobile will offer the One M8 for $0 down and $26.50 per month for 24 months. On AT&T Next, you'll pay $24 to $32 per month depending on the payment plan, $27.09 per month on Sprint's Easy Pay or $24.99 per month on Verizon Edge.
Should you buy the One M8?
If you want a top-of-the-line Android smartphone, the HTC One M8 hits all the right notes. The design is as comfortable and durable as it is good-looking. The display is gorgeous, and the speakers are even better than the last generation's. While not the best in class, the camera is good enough for the way most people use phone cameras.
Newcomers to Android will appreciate the easy navigation and pre-loaded apps. There's no bloatware (as long as you don't count what the carriers load).
The One M8's sealed-in battery is still a significant drawback for people who like to keep their phones longer than a year. If you're the type to trade up as soon as you can or as soon as a newer, better generation is available, it won't be a problem. You'll get impressive longevity while the battery remains in good condition.
Overall, the HTC One M8 is a big improvement over last year's HTC One — and that was a very impressive smartphone. The Samsung Galaxy S5 has some real competition.
Verdict: Highly recommended
---
Detailed Specs
Talk and Standby Time: Up to 20 hours talk time
OS: Android 4.4 Kitkat with HTC Sense 6
Weight: 160g
Dimensions: 146.36 x 70.6 x 9.35 mm
Battery: 2600 mAh
Display: 5 inch, Full HD (1920 x 1080)
Video: 1080p
Camera: HTC 4MP UltraPixel camera, f/2.0, 28mm wide angle lens, HDR, HDR video, secondary rear camera acts as depth sensor, autofocus, LED flash, dual shot recording (photo and video), HDR, image stabilization, touch focus, face and smile detection
Front-facing Camera: 5 megapixel
Mobile hotspot: Yes
Processor: Qualcomm Snapdragon 801, quad-core CPUs
Memory: 2GB RAM, 16GB/32GB onboard storage
Sensors: Accelerometer, proximity, ambient light, gyro, barometer
Connectivity: NFC, Bluetooth 4.0 with aptX, WiFi a/b/g/n/ac (2.4 and 5GHz)
Network:
2G/2.5G - GSM/GPRS/EDGE:
850/900/1800/1900 MHz
3G - WCDMA:
EMEA: 850/900/1900/2100 MHz with HSPA+ up to 42 Mbps
Asia: 850/900/1900/2100 MHz with HSPA+ up to 42 Mbps
AT&T: 850/1900/2100 MHz with HSPA+ up to 21 Mbps
Sprint: 850/1900/2100 MHz with HSPA up to 14.4 Mbps
Verizon: 850/900/1900/2100 MHz with HSPA+ up to 14.4 Mbps
TMUS: 850/AWS/1900/2100 MHz with HSPA+ up to 42 Mbps
CDMA:
Sprint: 800/1900
Verizon: 800/1900
4G - LTE:
EMEA: 800/900/1800/2600 MHz
Asia: 700/900/1800/2100/2600 MHz
AT&T: 700/850/AWS/1800/1900/2600 MHz
Sprint: FDD 800/1900 MHz , TDD 2600 MHz
Verizon: 700/AWS/1800/2600 MHz
TMUS: 700/AWS MHz

Discussion