Best Single-Serve Cappuccino Maker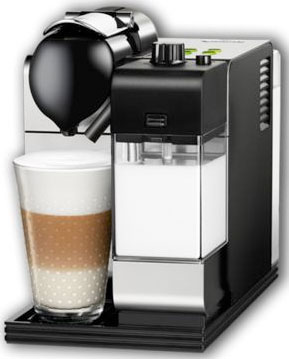 For near press-it-and-forget-it simplicity, we love the Nespresso Lattissima Plus. In fact, we've been using a Nespresso Lattissima in our home for years and have become completely addicted to its simplicity and delicious results.
Automatic milk handling for cappuccinos and lattes makes drink-making a breeze, and it can put out its first cappuccino in less than two minutes (less than one minute for espressos!).
Nespresso offers an excellent selection of espresso pods, known for their exceptional quality. No tea, hot chocolate or American-style coffee pods available, though "lungo" pods make a larger, espresso-based coffee similar to an American coffee.
And the Lattissima uses real milk (the milk container can be stored in the refrigerator) - the pre-packaged milk pods from competitors simply don't stand up in this comparison, plus they'll cost you an extra 50 cents per drink.
In warmer weather, the Lattissima makes incredible iced coffees and lattes.
Trust us on this one. Buy a Nespresso Lattissima for yourself or as a gift and you won't be able to imagine life without it.
Like this product? Want it as a gift?
Let your friends know:
Like this product? Want it as a gift?
Let your friends know:
Own it? Questions? Let us know!