Best Soundbar under $300 (Vizio S4221w-C4)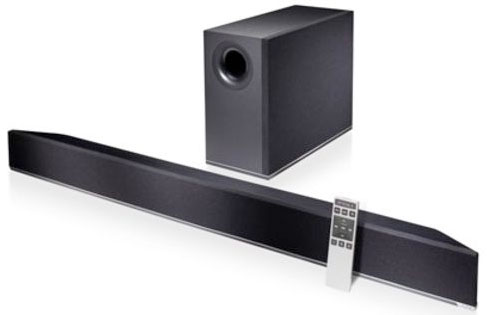 What's special about the Vizio S4221w-C4 soundbar is the sound. We've been listening to the S4221w-C4 and have been blown away by the sound quality it delivers for only $249. Dialogue in movies and TV shows sounds extremely clear and natural. Even without the SRS TruSurround surround-sound mode activated, it was as if there were surround speakers on the sides of our room.
The subwoofer delivered surprisingly powerful and punchy bass, a very different and far superior experience than we've had with the boomy-sounding subwoofers included with most soundbars. Sounds nice with music, too: Loud enough for parties, yet refined enough even for more delicate genres like folk and classical.
With a few exceptions, it's hard to knock the S4221w-C4 on features. It has Bluetooth wireless, so you can stream sound from your smartphone, tablet or computer. The sleek remote has a built-in alphanumeric display, so it's much easier to make adjustments than it is with soundbars that have only blinking lights to tell you what's going on.
The S4221w-C4 can also accept the volume up, volume down, and mute commands from your TV remote, so the soundbar will work almost like it's part of your TV.
Like this product? Want it as a gift?
Let your friends know:
Like this product? Want it as a gift?
Let your friends know:
Own it? Questions? Let us know!