Oster Electronic 6-Quart Food Steamer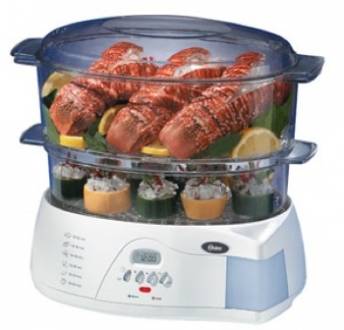 Steaming your food offers two big nutritional benefits over other conventional cooking methods. It doesn't add any fat, like sauteing and frying do, and it doesn't leach as many nutrients from your food as boiling or poaching.
We like the Oster 5712 Electronic 2-Tier 6-Quart Food Steamer, which lets you steam two different dishes simultaneously, making an all-steamed dinner a snap.
The large 6-quart capacity makes it ideal for family meals and its easy operation means dinner never has to be a hassle. At $40, it's an affordable addition to your kitchen.
Like this product? Want it as a gift?
Let your friends know:
Own it? Questions? Let us know!