The Best TV Under $500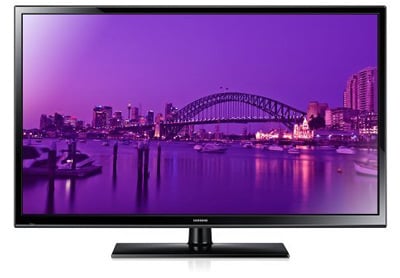 The 51-inch Samsung PN51F4500 may be bare bones, but it has excellent picture quality, making it the best TV for under $500.
There are two solid reasons to choose this TV: It's 51 inches, and it's a plasma TV.
The PN51F4500 is 10 to 12 inches larger than most of the LCD TVs in this price range. Experts agree that plasma TVs deliver a substantially better picture than all but the very best LCD TVs. You notice the difference immediately in the dark parts of the picture, where most plasmas deliver deeper, darker, more realistic blacks and dark grays than most LCD sets can. Plasma TVs also typically offer a wider viewing angle and don't suffer from the motion lag that can cause distracting blur when you're watching sports.
The PN51F4500 has earned a very solid 4.4-star rating from Amazon.com users and other professional reviewers love it, too.
The PN51F4500 is about as bare bones as TV sets get. It has only two HDMI inputs and also lacks Internet connectivity and smart TV features. But you can add those smart functions from a Blu-ray player, a video game console or the Roku LT, so a worthwhile trade-off in our opinion.
Like this product? Want it as a gift?
Let your friends know:
Like this product? Want it as a gift?
Let your friends know:
Own it? Questions? Let us know!