Yonanas Elite Healthy Dessert Maker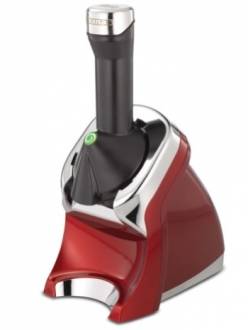 Everyone loves ice cream, but most of us don't like the calories and fat that come with it. Enter the Yonanas Elite, which transforms frozen fruit into a soft-serve treat — and with a lot less time and effort than making homemade ice cream or sorbet.
Just feed the Yonanas frozen bananas and other fruit, and it will quickly create a delectable frozen dessert. Not indulging your sweet tooth can be the hardest part about not derailing your diet, but Yonanas lets you stick to your healthy resolutions and eat dessert, too.
We like the $119 model with its two times more powerful motor for the flexibility of adding in harder foods, like nuts and chocolate chips. It's not what we'd classify a budget buy, but it's hard to put a price tag on guilt-free dessert.
Like this product? Want it as a gift?
Let your friends know:
Own it? Questions? Let us know!