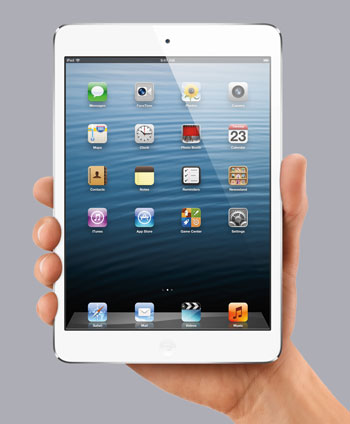 In the last decade, Apple has transformed itself from a garden-variety technology company with an especially rabid fan base to the most valuable public company on earth. Apple has become the worldwide leader in digital music sales, accelerated the mobile revolution with the iPhone and launched tablets as a viable product category with the iPad.
Yet for all of Apple's positive moves over the past few years, some of its decisions have been diametrically opposed to what Apple executives — specifically, former CEO Steve Jobs and current chief Tim Cook — said the company would do. Yes, Apple has flip-flopped numerous times.
But don't disparage the company for it. If Apple had stood firm on all its previous declarations, we wouldn't now be enjoying some of the most iconic devices and products in recent history. Let's look back at some of Apple's biggest changes of heart in recent memory.
1. The Video iPod
It was April 2004, well after iTunes and the iPod had become a major hit for Apple, and the iTunes Music Store had sold 70 million songs in its first year. During a conference call with the press to mark the iTunes Music Store's first anniversary, Jobs was asked by Mike Wendland of the Detroit Free Press if Apple had contemplated releasing an iPod with additional features — specifically, one that could play videos in full color. (By that time, Apple had already added music videos to the store.)
"You know, one of the things that I say around Apple, I paraphrase Bill Clinton when he was running long ago when he said, 'It is the economy, stupid' — I say, 'It is the music, stupid,'" Jobs replied.
"We have to stay focused on the fact that people are buying these devices to listen to music," he continued. "People love music. They love listening to music as a background activity when they're exercising, when they are commuting and when they are just hanging out, and music is a wonderful thing because (a) it is music, and (b) because it can be listened to as a background activity. And a lot of these other things that people are talking about building in such as video and things like that are foreground activities."
Barely five months after the aforementioned statements in September 2004, Apple unveiled the all-but-forgotten iPod Photo, complete with a full-color display. In October 2005, Apple announced the fifth-generation iPod complete with video playback, which helped Apple sell a then record 14 million iPods in its first quarter.
2. The App Store
With more than 1 billion apps now in the App Store, it's unfathomable to think that it was once considered a bad move on Jobs' part to make third-party applications available on the iPhone. During the introduction of the iPhone at Macworld in January 2007, Jobs made it clear that he wanted developers to build web apps to be accessed through Safari instead of native applications requiring a software development kit (SDK) and stored on the iPhone itself.
"The full Safari engine is inside of iPhone," Jobs said. "And so, you can write amazing Web 2.0 and Ajax apps that look exactly and behave exactly like apps on the iPhone. And these apps can integrate perfectly with iPhone services. They can make a call, they can send an email, they can look up a location on Google Maps. And guess what? There's no SDK that you need! You've got everything you need if you know how to write apps using the most modern web standards to write amazing apps for the iPhone today."
The reasoning behind the decision was unveiled in Walter Isaacson's biography of Steve Jobs, released in 2011 shortly after Jobs died. "When it first came out in early 2007, there were no apps you could buy from outside developers, and Jobs initially resisted allowing them," Isaacson wrote. "He didn't want outsiders to create applications for the iPhone that could mess it up, infect it with viruses or pollute its integrity."
Even then, Apple Board Member and current Chairman Art Levinson tried to change Jobs' mind. "I called him a half dozen times to lobby for the potential of the apps," Levinson told Isaacson. SVP of worldwide product marketing Phil Schiller told Isaacson he "couldn't imagine that we would create something as powerful as the iPhone and not empower developers to make lots of apps. I knew customers would love them."
As you may have noticed, web apps never caught on like Jobs expected, and in October 2007 Apple announced that an SDK would be made available to developers. The App Store was born in July 2008.
3. iBooks
"It doesn't matter how good or bad the product is, the fact is that people don't read anymore. Forty percent of the people in the U.S. read one book or less last year. The whole conception is flawed at the top because people don't read anymore." These were comments Jobs made to the New York Times in January 2008 when asked about the Amazon Kindle.
Speaking with the Times in September 2009, Jobs reiterated his position that Apple didn't see e-books as a big market.
In January 2010, the iPad was unveiled with iBooks as a major selling point.
"Amazon's done a great job at pioneering this functionality with their Kindle, and we're going to stand on their shoulders and go a bit further," Jobs said during his iPad Keynote.
4. A larger iPhone
In July 2010, Jobs gave us what may be one of his most famous quotes, one that has proven by Apple's future decisions to be untrue. During a press conference for the "Antennagate" debacle surrounding the iPhone 4, Jobs said, "No one's going to buy that" in reference to phones with screens larger than the then-standard 3.5-inch iPhone screen. Jobs chastised rival phone makers for making devices so large "you can't get your hand around it" and resembling Hummers.
The irony is that the phones Jobs were referring to were all between 4 and 5 inches, now considered a normal size for flagship devices. Even Apple eventually made the iPhone larger, moving up to 4 inches with the iPhone 5 in 2012. With a report from The Wall Street Journal stating that Apple is preparing two larger versions of the iPhone for release this fall, it appears there's no such thing as too big when it comes to phones.
5. The iPad Mini
The most definitive Apple statements that were later proven untrue have to be those made by Jobs during an earnings call in October 2010. In response to a flurry of rumors about an iPad mini being built by Apple, Jobs made a rare appearance on an earnings call to refute the claims.
"If you take an iPad and hold it upright in portrait view and draw an imaginary horizontal line halfway down the screen, the screens on the 7-inch tablets are a bit smaller than the bottom half of the iPad display," Jobs said. "This size isn't sufficient to create great tablet apps, in our opinion."

"One could increase the resolution of the display to make up for some of the difference," Jobs continued. "It is meaningless, unless your tablet also includes sandpaper so that the user can sand down their fingers to around one-quarter of the present size. Apple's done extensive user-testing on touch interfaces over many years, and we really understand this stuff. There are clear limits of how close you can physically place elements on a touch screen before users cannot reliably tap, flick or pinch them. This is one of the key reasons we think the 10-inch screen size is the minimum size required to create great tablet apps."
The reversal on these statements came two years later when Apple released the iPad mini. No sandpaper was needed.
Flip-flops with benefits
It seems that every time Apple flip-flops on a previous decision, it turns out to be a highly successful move. Hopefully these changes of heart continue, and we'll see more products and features that were once put down by Apple.
Because you know, I could really use a touchscreen Mac right about now.